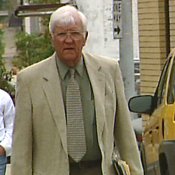 Former Hinds County D.A. Ed Peters has been permanently disbarred.
Stories this photo appears in:
The Mississippi Supreme Court has permanently disbarred former Hinds District Attorney Ed Peters by accepting the law license he turned over to the Mississippi Bar Association in January. Peter's action ...
Former Hinds County District Attorney Ed Peters has turned in his law license to the Mississippi Bar Association. The Bar received Peters' resignation last week, but had to wait until ...