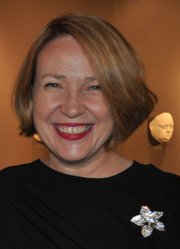 We're living through one of those difficult times in Jackson when fear and distrust of "the other" reach a fevered pitch due to a high-profile crime.
This time it was the tragic murder of Carolyn Temple, an elderly white woman in Belhaven. The accused are a group of young, black men from a very different side of town who, police say, were in the midst of a crime spree reaching into different parts of the city. It turned deadly on Euclid Avenue, sandwiched between two historic Christian colleges and only a block away from State Street, a street that functions as a dividing line between different segments of our city.
A crime like this is no more tragic than any other murder—all should make us ache with heartbreak—but it turns the volume so high on the divides we still tolerate in our city and beyond that it ends up thickening the walls between us if we're not careful.
As a result, we end up in worse danger of being or knowing a victim of similar crimes, than if we chose a calmer, studied response to responding to murder by coming together to prevent similar tragedies in the future.
In the hysteria that fear can cause, we become easy prey for those who want to hawk hate and prejudice and to demand the kinds of police and policy response that can actually create more hardened criminals in the future. These people want us to ignore some of the most basic and easily accessed research on the causes of and ways to prevent crime. It's almost as if they want to maintain an easy enemy for the rest of us to despise.
Then, the political beast enters the picture. Don't respond to crime by young men from neighborhoods with underfunded schools by talking about at least "adequate" education funding. That's partisan, we're told by the people who make it partisan.
Don't bring up poverty, even though the direct link between growing up poor and crime is as proved and clear as the connections between being hungry and needing to eat, or the need for healthy diets and brain development. That is, it's fact.
The need for health care, including mental-health services, especially for children traumatized since birth? Just liberal hoo-ha.
And historical realities? Many people will literally cover their ears if you bring up the fact that kids growing up in communities traditionally targeted by violence—even for trying to vote a few years back or now for doing much of anything that might startle someone with a gun—may well learn that violence is an acceptable response.
What about our backward approach to criminal justice? In Mississippi, we've long liked to round up children of color and throw them into horrid conditions (like the training schools and our juvenile detention center). Or we send minors who commit crimes to adult prisons and then get all outraged when they come out worse criminals, even though the research already tells us these methods increase recidivism.
Meantime, most white kids who get in similar trouble don't typically go through the same systems, especially if their families are better-to-do. As a result, it's easier for them to break the criminal cycles and use family connections to change their trajectory.
Not to mention the media's role in this conspiracy against certain young people: Study after study show that media outlets tend to sensationalize crimes by people of color, choosing mugshots and other negative images of the accused when they tend to run yearbook or similar photos of whites who are accused. As R.L. Nave wrote about brilliantly in last week's issue, they also give unequal treatment to victims, running multiple, more human stories about white victims while barely mentioning victims of color. And most stopped honoring the best practice of not revealing names and pictures of accused minors years ago, which can do tremendous harm to a young person, especially if they turn out to be innocent.
It's no mystery why: The coverage is designed to please richer parts of the town—the "market" for advertising dollars. They're the ones who matter, despite token efforts at displaying diversity.
That may seem like good business to some (not to us), but that approach comes at a high cost to the community. Such skewed, sensationalistic, double-standard coverage feeds the perception that certain parts of the city are too dangerous to live and do business in. That means people flee, schools worsen, homes are abandoned, services disappear, poverty grows, crime worsens and parents go to prison instead of raising their kids.
It comes at high personal cost to young people growing up surrounding by hopelessness. Too many believe they have no options; therefore, they don't. (How many things have you accomplished without believing you can? List them.) They fall prey to bad influences, and can get mired in negative cycles that stay with them into adulthood. They then often become "the family" that so many people want to blame it all on, while refusing to connect the dots and help stop the cycle.
Meantime, more kids fall through the cracks, and the people who spent all those years blaming "the family" end up at their neighbor's funeral on a chilly day in January, while calling for the death penalty for the young men who killed her. They might even rail against public-education funding, lament Obamacare, call all single mothers of color "welfare queens" and move out of the city in search of a safe suburban utopia, taking their tax dollars even farther away from those children's schools.
We all lose in this reality. Every murder victim suffered a tragic death, regardless of whether she died helping a neighbor, or he died in a drug deal gone bad. Every human life matters, and every effort we make, or don't make, to prevent these tragedies is a matter of life or death for us all.
In business these days, we talk a lot about collaboration. How do things connect? What impact will this or that action now have in a year, five years, 10 years? What are the unexpected consequences? What historic factors are creating realities now?
If we care about the health of our communities, we must collaborate to make them stronger and safer and to stop the multiplying effects of neglect, intentional or not. Rhetoric and hysteria might feel good to some, but it does nothing to make our communities safer over the haul. Maybe the police chief shows up for your community meeting, but the police don't prevent crime; they respond to it and, in some cases, deflect it from one block to another. That's their job, frankly.
Our job is to create conditions that keep more people from turning to a life of crime that victimizes us all. Even as we help the police apprehend people who are current threats, stop leaving valuables in our cars and look out for each other, we must start this very second to prevent future crime and, better yet, tap into the potential of all our young people before they are limited by our low expectations for them. Let's just start.
The alternative is more heartache.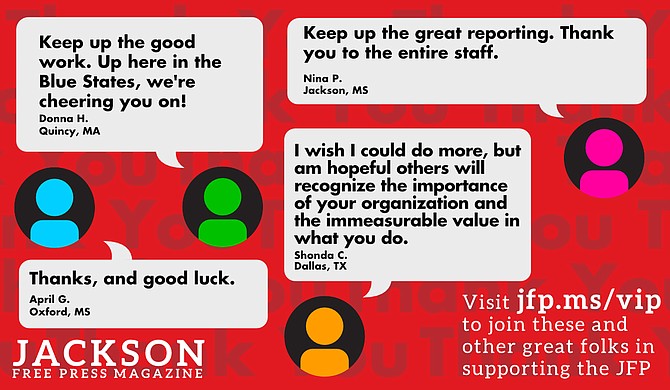 Thanks to all our new JFP VIPs!
COVID-19 has closed down the main sources of the JFP's revenue -- concerts, festivals, fundraisers, restaurants and bars. If everyone reading this article gives $5 or more, we should be able to continue publishing through the crisis. Please pay what you can to keep us reporting and publishing.