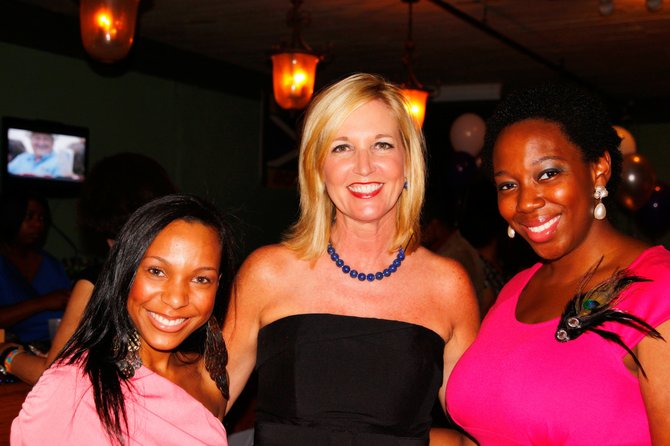 It is JFP Chick Ball season in Jackson, and this year we are helping the Center for Violence Prevention target sex trafficking in our area. We are raising money and awareness about this vital issue many people don't know about. The JFP Chick Ball is July 20 at Hal and Mal's from 6 p.m. to 1 a.m. Age 18 and up are welcome; $5 cover. We'll have a full line-up of chick music (line-up announced soon) and even a burlesque dancer this year! Make plans now.
There are many ways to get involved with Chick Ball and help fight sex trafficking. Here are 10 easy ones; pick as many as you can!
Become a JFP Chick Ball sponsor, for as little as $50 (top level is $5,000 and up). You can become a sponsor through the day of the Chick Ball. Write checks out to Center for Violence Prevention and drop at the JFP (2727 Old Canton Road, upstairs) from 10 to 6, Monday through Friday; or call Samantha Tower at 601.362.6121 x. 23 or email [email protected] to sign up. All sponsors will be listed in Chick Ball materials and flyers as soon as possible after you donate.
Make a donation to the Chick Ball silent auction. Every year, the bulk of our money comes from the silent auction with a tres chic collection of art and gifts donated by local individuals and businesses. You can donate up until the Chick Ball starts, although get it to us by June 24 in order to be pictured in the auction guide in the huge special Chick Issue published the week of the Chick Ball. Use contact info in No. 1. The Center will send everyone who donates receipts for tax purposes. (See the Chick Ball auction guide in flip book of Chick Issue here for 2010 and here for the 2011 issue. All donors will be thanked in an issue of the JFP after the Chick Ball as well.
Volunteer to help at the Chick Ball or to pick up stuff ahead of time, or help clean up afterward. Contact Samantha Tower at 601.362.6121 ext. 23 or at [email protected] to get on the volunteer list. We need help getting flyers out now, as well as gathering Chick Ball silent auction items. But you need to be on our official committee list before asking strangers for donations! Talk to Samantha first. We can also use any kind of chick-related decor (hello, Easter sales) and even corporate junk (like key chains and mugs) that we can use as game prizes.
Give money directly to the Center by going to their site (http://www.mscvp.org/) and using PayPal. Note there that it's a Chick Ball donation, and email chick[email protected] so we include you on the sponsor list.
Like and share the JFP Chick Ball Facebook page with everyone you know. Tell everyone you know! Talk it up! You matter! (While you're there, steal the Chick Ball logo for your Facebook page!)
Follow us on Twitter @jfpchickball and retweet us all over.
Show up at the JFP Chick Ball Saturday night, July 20, from 6 p.m. to 1 a.m. at Hal & Mal's; pay $5 (or more for door-prize tickets) cover.
At the JFP Chick Ball, buy a Chick Ball tattoo, buttons or bid on silent auction stuff. Play games and win goofy stuff.
Buy door-prize tickets at front door of Chick Ball ($5 each; $20 for five) to win wonderful stuff donated by local businesses. Lots of great gift cards.
Participate in the Chick Ball Challenge! Get a team of at least two and up to 20 people to raise money and gathers gifts, art and gift certificates for the silent auction. The group who brings in the greatest total money/value takes home the new, huge Chick Bowl trophy for a year! Write [email protected] to register and get info. Hurry!
Happy Chick Ball! We can do this.
Read more about last year's JFP Chick Ball here.
Previous Comments
ID

158780

Comment

Bump. Please do what you can.

Author

DonnaLadd

Date

2010-07-21T12:15:17-06:00
Support our reporting -- Follow the MFP.