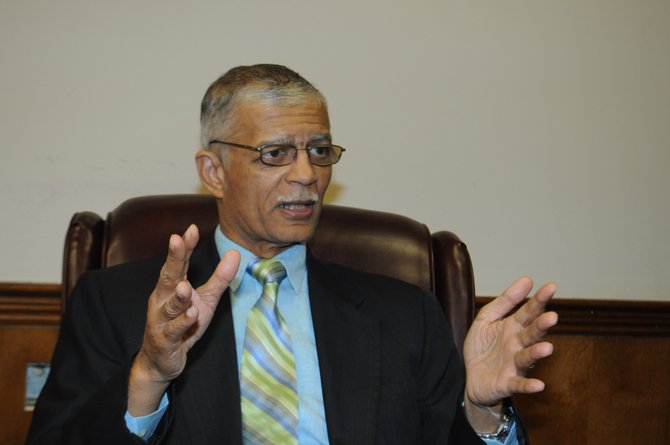 "Our revolution is for the better idea; it's not just for the change in colors."
Chokwe Lumumba terrifies many white people in Mississippi--and he knows it.
In the months leading up to his second-place finish in Jackson's Democratic primary election that propelled him into a runoff against businessman Jonathan Lee, Lumumba has started to, well, whitewash parts of his biography that some whites and middle-class blacks might find threatening.
But whether it's a function of aging with wisdom, election-year pandering or a true metamorphosis in his thinking, lately Lumumba has been showing a side of himself that surprised people who have observed his career over the years.
Now, Lumumba devotes a good deal of time talking about his family's own diverse racial heritage, the camaraderie he experienced among fellow basketballers of all races and nationalities, the poor whites he has represented vigorously in the courtroom or the relationship he was able to build with former Gov. Haley Barbour.
Lumumba is also mindful to tell people that despite his co-founding of the Malcolm X Grassroots Movement, his name is African, not Muslim, and that he is a member of Word and Worship Christian Church in Jackson.
During the 1970s, Lumumba went to law school and became a founding member of a group whose main goal was to obtain land for an autonomous nation in the southeastern United States for black people. As part of the organization, Lumumba helped purchase the first parcel of land near Jackson for the nation-state that would become the home for the Republic of New Afrika, or RNA, to be situated in Louisiana, Mississippi, Alabama, Georgia and South Carolina.
Those plans, like the lives of so many civil-rights leaders of Lumumba's era, were short-lived, ending dramatically on Aug. 18, 1971, with a famous early-morning shootout in west Jackson near Jackson State University, in which a Jackson police officer was killed.
Starting in the late 1970s, Lumumba became an attorney of choice for high-profile clients. In some of those cases, his activist training has landed him in hot water with judges and the bar. But where relationships with the mayor's office has often been rocky with neighboring counties and the Mississippi Legislature, Lumumba offers his lifetime spent "asking, organizing, (and) sometimes demanding" as how he'll tilt the balance of power in Jackson's favor to represent the capital city's interests.
In the case of Jamie and Gladys Scott, whom Gov. Haley Barbour--who had denied a similar request in 2006--granted clemency in 2011 for an armed robbery that netted the sisters between $11 and $200, depending on who testified, Lumumba, then the sisters' attorney, said he offered Barbour an opportunity to do the right thing.
"What we were aware of was he was talking about running for the presidency," Lumumba said. "We knew that if that issue was to go beyond Mississippi and somebody was to hear about two women being in jail for $11 when seven men had been released on pardon for killing their wives or girlfriends, that was going to be disturbing to a lot of moderate Republicans that might have been considering him. So we felt as if we had a way to make our interests his interests."
Cultural Racism
Before shedding his given name of Edwin Taliaferro, Lumumba was baptized Catholic. The son of a Kansas-born father and Alabama native mother, Lumumba remembers early "intercourse with cultural racism" that included restaurants in then-all-white Dearborn, Mich., refusing to serve his family and a local white neighbor falsely accusing his brother of having snatched her purse.
At age 8, Lumumba recalls seeing the photograph of Emmett Till's brutalized face on the cover of Jet Magazine, a moment he calls the pricking of his political consciousness. Thirteen years later, when Dr. Martin Luther King Jr. was assassinated, Lumumba felt it was time to get involved in "the movement." It wasn't King's preaching of nonviolence that resonated with Lumumba, who had cousins killed by the police in Michigan, but rather beating Jim Crow.
"I didn't have a philosophy of 'hate white folks' because the police were messing with us. My thing was fairness, and I was offended by unfairness," Lumumba told the Jackson Free Press in March.
In 1969, while studying law at Wayne State University in Detroit, Lumumba was one of 18 students who sued for what they believed was a discriminatory grading system after taking over the law-school administration building, demanding reinstatement of failed students and calling for an anonymous grading system.
Lumumba first came to Jackson in the early 1970s as a civil-rights activist and vice president of the Provisional Government of the Republic of New Afrika. In March 1971, the RNA bought land outside Jackson for its black nation; RNA members believed that, without an independent black state, African Americans would never have representation in government.
"The Republic of New Afrika has been miscast like they were flip side of the Ku Klux Klan. When we came to Mississippi, it was the Klan that put up signs that said, 'N*ggers, we're giving away free 6-foot holes,'" Lumumba told the Jackson Free Press earlier this year.
Five months after the RNA bought the first parcels for the would-be country, on Aug. 18, 1971, Jackson police and agents from the FBI raided the heavily armed house used for RNA's headquarters in west Jackson at dawn with no warning, even bringing the infamous Thompson tank. Police Lt. Louis Skinner died in the shootout, and another police officer and a bureau agent were wounded. Lumumba was not involved in the shootout that resulted in the arrests of 11 RNA members including its president, Imari Obadele, who also was not on the scene.
Lumumba went back to Wayne State, where he graduated first in his law school class, and from 1976 to 1977 worked for the City of Detroit's Defenders Office before co-founding a Detroit law firm.
An Activist First
Over the years, while living in Mississippi, Lumumba developed a roster of high-profile candidates across the country.
"When you're involved in those struggles (and) then you become a lawyer, you're in high demand for people who have those kinds of cases," Lumumba said.
Lumumba's reputation as an activist earned him a laundry list of high-profile and sometimes controversial clients including Fulani Sunni Ali, indicted in the 1980 Brinks armored-car robbery for whom Lumumba secured an acquittal; the sometimes-irascible hip-hop artist Tupac Shakur; Lance Parker, who was accused of trying to shoot the fuel tank on Reginald Denny's 18-wheeler during the Los Angeles riots after the Rodney King verdict in 1992; and Mississippi's Scott Sisters.
In 2002, Lumumba represented a 13-year-old named Elliot Culp, who was convicted of nine counts of rape, kidnapping and robbery in Holmes County. Culp, who Lumumba claimed did not receive a fair trial because of racially tinged media coverage of the trial.
It wouldn't be the last time Lumumba would attempt to put "the system" on trial, so to speak. In 2005, the Mississippi Bar Association suspended Lumumba's law license for six months for saying in court that Leake County Circuit Judge possessed "the judicial demeanor of a barbarian." Lumumba was not, however, disbarred, and Gordon went on to preside over the manslaughter trial of Edgar Ray Killen, finally convicted for the role he played in the deaths of three civil rights workers in Neshoba County in 1964.
Lumumba also represented the owners of a Jackson nightclub, the Upper Level, in 2008, after then-Mayor Frank Melton vowed to close the business down as "a public nuisance."
The Hinds County Chancery Court sided with the city in 2008 and imposed expensive new requirements on the club, including increased security, a pricier insurance plan and better record-keeping of employees. Club owners were unable to afford the expensive new requirements, and the club closed. Lumumba was also outspoken against Melton's violation of the rights of African Americans in his nighttime tours of Jackson in JPD's Mobile Command Unit.
In 2009, Lumumba won the Ward 2 seat on the Jackson City Council, replacing Leslie McLemore.
Since taking his seat, Lumumba has repeatedly called for greater participation of Jackson residents in city contracts. Lumumba said since African Americans compose 80 percent of the city, blacks should represent a higher percentage of the companies that do business with the city as well as make up proportional percentage of the overall workforce in the city.
To many people in Jackson, Lumumba's plans sound frighteningly like he wants to redistribute the city's wealth, taking from hard-working white job creators and giving it to the less deserving, shiftless black majority. Despite his comparison of Jackson to the "taxation without representation" that sparked American colonists to take up arms against the British crown, Lumumba said he is not calling for a violent overthrow of Jackson's white power brokers.
"We're not looking for a bloody revolution in the city of Jackson. We don't want to offend anyone else's rights. How ever many white people there are in Jackson, they have to be treated by the highest levels of human standards as anybody else, because if we don't do that, not only do we offend Martin Luther King's philosophy, what we do is betray our own revolution," Lumumba said.
"Our revolution is for the better idea; it's not just for the change in colors. So it's not a question of whether in a predominantly black jurisdiction that you've got to oppress white people. Where that notion comes from, I don't really know," Lumumba said
During his mayoral bid, Lumumba has said he wants to look for ways to grow the city's population, which had declined steadily over the past 20 years but appears to be showing some signs of new life.
For example, Lumumba said the city should market itself to immigrant populations. While serving on the city council, he authored an anti-racial profiling ordinance to stand in opposition to legislative efforts to criminalize undocumented immigrants living and working in Mississippi, one of the most rapidly growing regions for Latinos in the nation. He also wants to give city workers pay raises to spark economic growth.
If elected mayor, Lumumba said he would push to get a new developer for the Farish development project, expand participation in summer youth jobs programs and try to get rid of a state commission that would have oversight of funds raised through a one-cent sales tax for infrastructure projects. Lumumba said the commission deprives Jackson of allowing their popularly elected representatives determine the economic fate of the city.
"I don't think that is done in other cities and it shouldn't be done in Jackson," Lumumba said.
Read more about Chokwe Lumumba at jfp.ms/chokwelumumba.
More stories by this author
Support our reporting -- Follow the MFP.