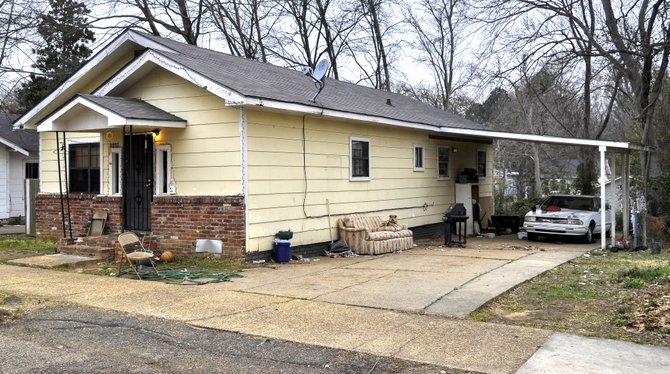 It's hard to have a conversation with just about anyone about Chokwe Lumumba without hearing "RNA" at least once. His detractors loved to use his alliance with the group against him, even accusing him of crimes he didn't commit. On the other hand, Lumumba loved to tell stories about the group's efforts to "free the land" for African Americans in the south. Few, though, actually seem to know much about the group and what happened one fateful August morning in 1971.
Philadelphia, Pa., native Dr. Imari Abubakari Obadele—formerly Richard Henry—started the Republic of New Africa on March 31, 1968, along with his brother, a friend of Malcolm X. The goal was "to free black people in the United States from oppression," and to promote self-sufficiency as well as self-defense.
Obadele and followers—including a young Chokwe Lumumba—relocated to Mississippi where they became integral to a black separatist movement that wanted the U.S. to cede parts of the heart of the Confederacy back to descendants of slaves. They demanded land as reparations and planned to help other blacks provide each other six essentials: food, clothing, education, housing, medical treatment and self-defense. They purchased a large plot of land in Hinds County near Bolton where they hoped to establish a separate and self-sufficient nation for black people—and one safe from the violence routinely inflicted on them by whites, including police officers right here in Jackson.
Police reports and other files the JFP has collected from the time show a tense relationship between the RNA and local police officers, who at the time did not hide their racism and disdain for any type of self-defense on the part of blacks.
This white-power/black-power feud exploded May 13, 1970. After several days of student protest at Jackson State over the draft and the May 4 Kent State killings of four student protesters by the National Guard, officers from JPD and the Mississippi Highway Patrol barricaded Lynch Street at both ends of the college. The officers moved in with 38 officers opening fire toward the girls' dorm, Alexander Hall.
JSU junior Philip Gibbs, 21, and high school student James Earl Green, who stopped while walking home to watch the protest, were killed, and four students were injured inside the dorm. The bullet holes are still visible in the dorm wall.
After the deaths at Kent State and Jackson State, anti-government and police fervor swept college campuses—with more than 100 demonstrations or student strikes a day. More than 500 colleges temporarily closed. On June 13, 1970, President Nixon established "The President's Commission on Campus Unrest," which held 13 days of public hearings in Jackson and other cities. But no convictions or arrests of any military or police officer resulted, further building the determination of "black power" groups like the RNA to get armed and fight back if attacked.
Likewise, law enforcement feared the RNA—and the men and women who were arming themselves to protect themselves and fellow African Americans, including children. Some even dared to sit defiantly on porches with their shotguns here in Jackson as police drove by.
But the white majority culture of the time could not allow black people to arm and defend themselves, even if they would defend to the death their own right to do the same. According to joint research by Brown University and Tougaloo, the FBI targeted the RNA and began raiding their meetings.
In August 1971, the Jackson Police Department and the FBI together, without warning, raided the RNA's heavily armed headquarters before dawn at 1148 Lewis St., a house several blocks north of Jackson State, with heavy arms, tear gas and warrants to make four arrests for outstanding warrants.
Police reports show that after surrounding the house—and with the Thompson Tank there as backup—FBI agent James Sammon shouted over a bullhorn that the occupants had one minute to come out of the house. After 75 seconds, FBI agent William Crumley fired a round of tear gas into the house. Then the firing began on both sides.
Jackson police Lt. William Louis Skinner—the father of Hinds Justice Court Judge Bill Skinner who had a running feud with Obadele—was killed in the shoot-out. Another patrolman and an FBI agent were wounded.
Eleven RNA members, including Margaret Walker Alexander's son and Obadele, who was not there when the raid occurred, were put on trial for murder.
None of the alleged fugitives or the then-24-year-old Lumumba was in the house during the raid. The seven RNA members inside the small, but well-armed house were young intellectuals ranging in age from 19 to 26 and included a pregnant woman, Toni Austin.
Eight of the "RNA 11" were ultimately convicted and sentenced to prison. Obadele was released after 17 months in jail and the original murder charge dropped. However, federal authorities arrested him again, charging him with conspiracy to assault a federal officer.
Witnesses at the trial testified that they had overhead Obadele, on an earlier date than the raid, say to Lt. Skinner that he would "be ready" for police if they targeted the RNA house (see jfp.ms/rna_docs for the full exchange). Obadele was convicted, and served five years.
After his release in 1980, Obadele got his Ph.D. in political science from Temple University. Before his death in 2010, he taught at several colleges and written a number of books, continuing to uphold the same principles he preached before—calling for reparations for slavery that would enable blacks to establish a separate, self-sufficient "black nation."
Obadele also filed a $2.4 million lawsuit against federal officials for eight years of covert spying on him and his organization, including illegal break-ins, telephone taps and attempts to kill members. The lawsuit was dismissed in 1989.
The split between many blacks and whites over the RNA vs. JPD/FBI gun battle has continued over the years with one side claiming murder and the other self-defense. The facts of the case, even as captured by the police themselves, show that it was far more complicated—and tragic—than some choose to remember.
Regardless of what one thinks of the RNA's goals and tactics, it was clearly a movement that white supremacy built.
Some of the JFP's RNA files and police reports are posted at jfp.ms/rna_docs.
Support our reporting -- Follow the MFP.