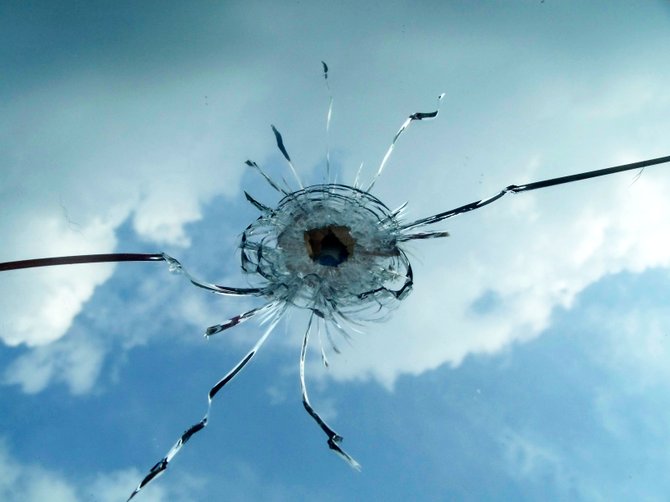 In 2008, Justin Vanquez Thomas, 24, shot and killed Dexter Harris outside the Southaven Performing Arts Center.
According to witnesses, a gang known as "TNT" was assaulting Justin Buckner, Thomas' friend, outside the center. Thomas fired two shots into the air to distract the gang. It worked. The gang left Buckner and turned their attention to Thomas, who got into his car. The gang surrounded the vehicle and began banging on it, at which time Thomas fired two shots out of the car. Both bullets struck Harris, killing him.
Mississippi legislators passed one of the nation's broadest Castle Doctrine laws in 2006, giving Mississippians a wide range of legal reasoning to use deadly force. The statute exists as a lengthy amendment to the state's "justifiable homicide" law.
The amendment set several key provisions under which Mississippians can use deadly force. One criterion is location: A person can invoke the doctrine from inside or in the immediate vicinity of a vehicle, a dwelling or a place of business. A dwelling does not only apply to a person's home. It can apply to any place with a roof, mobile or immobile, that he or she plans to occupy for at least one night, even a tent.
Secondly, the law states that the person who uses the deadly force must do so "in resisting any attempt unlawfully to kill such person or to commit any felony upon him."
The law requires that the person who uses the deadly force must have a reasonable fear for his own or another's life or health. If a person has unlawfully entered a dwelling or vehicle, for example, or has unlawfully attempted to remove someone from a dwelling, vehicle or place of business, a defender could use those actions to demonstrate his or her fear.
Under these provisions, Thomas claims to have a defense under the statute; however, two juries failed to agree. In April 2009, a jury convicted Thomas of manslaughter after the judge denied Thomas' attempt to claim innocence based on the state's Castle Doctrine. The court sentenced Thomas to 15 years in prison.
The Mississippi Appeals Court overturned the ruling Aug. 30, 2011, saying the lower court should have allowed the jury to consider the Castle Doctrine defense. "Thomas was entitled to a jury instruction that properly covered his theory of defense under the Castle Doctrine," Chief Judge L. Joseph Lee wrote in the decision.
Thomas went to trial a second time on the charge last April. The court declared a mistrial and scheduled another trial for August. That third trial ended much the same as the second, with a hung jury and no decision.
Despite state lawmakers' attempt in 2006 to make the Castle Doctrine less ambiguous and more black and white, gray areas still exist, often leaving the determination of justifiable or unjustifiable homicide up to police, juries and judges.
For example, in August 2008, the same month Thomas shot and killed Harris, Sabrinder Pannu shot and killed James Hawthorne, 15, outside the J & S Food Mart on Medgar Evers Boulevard in Jackson. Hawthorne had stolen a case of beer and was in a car pulling away when Pannu shot and killed him.
Hinds County District Attorney Robert Shuler Smith prosecuted Pannu for murder and for firing his weapon into an occupied vehicle. Smith argued that neither Pannu's life nor anyone else's life was in danger as Hawthorne drove away.
The jury didn't see it that way; it acquitted Pannu of both charges.
Smith said after the trial that he believed the jury's perceptions of crime in Jackson affected the decision. People fear being robbed and killed, he said, and he believed the jury was trying to send a message that such behavior would not be tolerated.
Days after Pannu shot Hawthorne, on Aug. 25, 2008, Terrance Prior entered a convenience store on Robinson Road wearing a mask and carrying a gun and robbed the store.
After he left the building, the clerk chased Prior, and shot and killed him. In that case, law enforcement refused to press charges against the shooter, citing the Castle Doctrine. Authorities did not release the shooter's name.
More stories by this author
Support our reporting -- Become a JFP VIP.
The news business has changed dramatically in the past two years, and we need your help more than ever to keep bringing you important stories about Jackson and the Metro. Become a JFP VIP with an annual membership or you can Sign up as a monthly supporter. Thanks for anything you can do to empower our journalism!