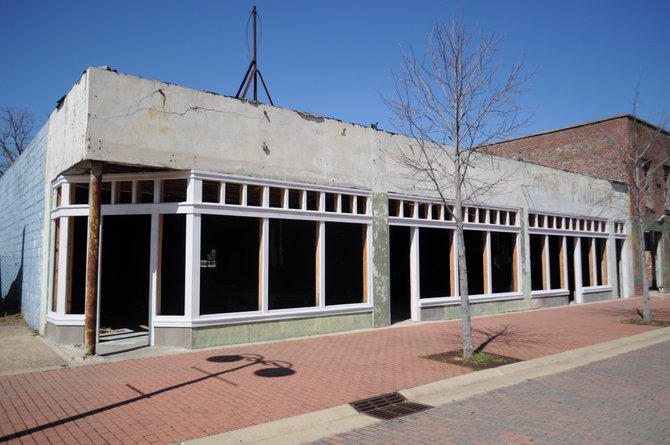 In 1950, Willard and Lillian McMurry created the first record label in Mississippi to gain national exposure through distribution and radio airplay. They managed the label, Trumpet Records, out of their retail store, Record Mart, at 309 N. Farish St. in downtown Jackson.
More than 60 years later, local musician Sherman Lee Dillon is trying to rebuild the former Trumpet Records' home into a museum and recording studio that will honor the McMurry's work along with that of great musicians like Sonny Boy Williamson II, Elmore James and Willie Love, all of whom released records on the label.
"There were a lot lesser artists who (also) did really good things, but Trumpet Records just did not have the power to push them nationwide," Dillon told the Jackson Free Press. "That's what ultimately got them. The big companies would threaten distributors: 'If you sell (Trumpet Records') stuff, we're not going to sell to you.'"
That didn't keep Trumpet Records from making its mark on music history, though, with records such as Elmore James' "Dust My Broom," which made the national rhythm and blues charts in Billboard magazine in April 1952.
In March 2009, Dillon's son, Daniel, and his partner, Adam Hayes, purchased the several adjoining Farish Street properties. Daniel Dillon and Adam Hayes now run Frank Jones Corner, a late-night bar and music venue, in the building at 303 Farish St. The white building that spans 305 through 309 Farish still sits in disrepair.
The elder Dillon is trying to raise $48,000 to pay his son and Hayes for two years' rent on the former home of Trumpet Records at 309 Farish St. Dillon said he had the building repairs estimated, and $48,000 would be the minimum cost to get the building back in workable condition.
"The arrangement is: They get paid two years in advance. With that money, they will fix up the building," Dillon said.
To raise the funds, Dillon has started a campaign on indiegogo.com. There, he has until 1:59 a.m., March 30, to raise the entire $48,000. If the campaign fails to reach the goal by the deadline, contributors will receive a full refund of their donation.
If Dillon can raise the money, he hopes to get the building back in business-worthy condition. Once repairs are complete, he wants to open a museum in the front of the building, recognizing the contributions Trumpet Records and its artists made to the area's music scene, including recording blues, country and gospel music.
"If there were a little Trumpet Records museum there that would have access to those songs, that would be very cool," Dillon said.
In the back of the building, Dillon wants to open a recording studio. He isn't trying to revive Trumpet Records, Dillon said, only to honor its legacy. He plans to call it Studio 309. There, Dillon hopes to help Mississippi musicians get international exposure and the chance to play in the studio with world-renowned artists.
"These folks don't have the identification and passports to go around the world, or the bankroll to do it," Dillon said. "Folks could come here and record and have access to hire those musicians."
Hayes and Daniel Dillon may give Sherman leeway if he can't raise the money by March 30, but not much, Sherman said. If he can't revive the building, the owners will likely sell the land to real-estate developers.
Dillon got a scare early Saturday morning when his son arrived at work and found the Mississippi Blues Marker recognizing Trumpet Records was missing. Contrary to his initial fear, the marker wasn't stolen. A crew from the Jackson Public Works Department removed it to repair damage from vandalism. Upon further inspection, the damage was greater than workers originally thought, so the department decided to manufacture a new marker.
The Jackson Redevelopment Authority owns most of the land along a two-block stretch of Farish Street where 309 is located. The Farish Street Group, led by Watkins Development, holds a lease on most of the land and has been attempting to secure funding to complete an ambitious entertainment-district makeover.
Dillon said he would explore the possibility of getting support from those groups if the online campaign does not raise the funds he needs to move forward.
Comment at www.jfp.ms.
More stories by this author
Support our reporting -- Follow the MFP.