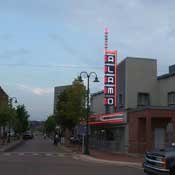 The heart of the historic Farish Street district follows North Farish Street from Amite to Fortification streets. The street is named for Walter Farish, a former slave who lived on the northeast corner of Davis and what is now Farish Street. The district is on the National Register of Historic Places.
Angela Stewart, archivist at the Margaret Walker Alexander National Research Center at Jackson State University, said the area once housed many different types of businesses and restaurants. Leading attorneys during the Civil Rights Movement lived and worshipped on Farish Street.
"Some things are still here, and some things are gone in terms of buildings and in terms of activity," Stewart said. "But between the entertainment district and the work of local activists and churches, they pushed to try to restore Farish Street."
Here's a look at some of the historic landmarks that tell the Farish Street district's stories.
Speir Phonograph Co. (225 N. Farish St.)
Talent scout H.C. Speir operated a music and furniture store on Farish Street in the 1920s and 1930s. He recorded many early Mississippi Bluesmen and made demo recordings for major record companies, including OKeh, Victor and Paramount. In Jackson, Speir recorded Skip James, Tommy Johnson and Robert Johnson. He also oversaw recordings downtown at the King Edward Hotel and the Crystal Palace Ballroom a few blocks down from his studio. Speir later moved his store to 111 N. Farish St., where the McCoy Federal building now stands.
Ace Records (241 N. Farish St.)
Johnny Vincent founded Ace Records in 1955, and the label was a major player in developing New Orleans R&B and blues. The label later moved to West Capitol Street.
Trumpet Records (309 N. Farish St.)
When Lillian McMurry purchased a furniture store in 1949, a pile of 78-rpm records came with it. McMurry opened Record Mart to sell records, and soon began making her own recordings on the Trumpet label through her Diamond Record Company. From 1950 to 1955, Trumpet recorded gospel, rockabilly, country and blues music by artists such as Arthur "Big Boy" Crudup, Elmore James and Aleck "Rice" Miller, aka Sony Boy Williamson II.
Peaches Restaurant (327 N. Farish St.)
Fifty years ago, Wilora "Peaches" Ephram opened "Jackson's original soul food restaurant," as her son calls it, in 1961. Since then, it has been a faithful landmark in the district, sticking with the neighborhood even when other businesses left. During the civil rights era, leaders of the movement dined at Peaches. It's still there, under the Barq's sign, with a jukebox inside.
Alamo Theatre (333 N. Farish St.)
The Alamo Theatre has hosted movies, vaudeville performances and musicians. The Alamo was originally on the first block of Farish Street, across from where the McCoy Federal Building now stands. In the late 1800s and early 1900s, travelling minstrel shows featuring blues artists performed in an empty field where the Alamo now stands. During the segregation era, national stars like Nat King Cole performed there. The Alamo reopened
in 1997.
Jackson Advocate (100 W. Hamilton St.)
The newspaper, "The Voice of Black Mississippians," has been in the Farish Street district for more than 60 years.
Collins Funeral Home (415 N. Farish St.)
After Medgar Evers' funeral, a group of mourners marched from the funeral home to Capitol Street, where some
were arrested.
NAACP offices and Big Apple Inn (507-1/2 N. Farish St.)
The unassuming brick building housed NAACP Field Secretary Medgar Evers' first office in 1954, as well as the NAACP Legal Defense Fund offices. In 1939, Mexican immigrant Juan Mora founded the Big Apple Inn, and Mora's great-grandson, Geno Lee, still sells pig-ear sandwiches downstairs.
Birdland (538 N. Farish St.)
The Crystal Palace Ballroom was the most celebrated club on Farish Street in the 1930s and 1940s, hosting big names like Duke Ellington and Louis Armstrong in its upstairs ballroom. By 1942, the building housed a USO service club. From 1951 to 2003, the building housed Harmon's Drug Store, which is now located up the road at 614 N. Farish St. Record producer and songwriter Zac Harmon, whose father, George, owns the drug store, remembers seeing blues artists playing on Farish Street when he was a boy. Today, the building houses the Birdland nightclub. The Mississippi Free Press, a newspaper started by Medgar Evers and other civil rights activists, was also at this location.
Stevens Kitchen (604 N. Farish St.)
Although it is now closed, Stevens Kitchen hosted civil rights leaders and politicians such as Sen. Robert Kennedy and Rev. Martin Luther King Jr. in the 1950s and 1960s.
Mount Helm Baptist Church (300 E. Church St.)
Mount Helm dates its founding to 1835, with the beginnings of First Baptist Church. Slaves initially worshipped in a basement in First Baptist, but after the Civil War, Thomas E. and Mary Helm donated 80 square feet of property and money to help the former slaves build a new, separate church. It is considered the oldest African American church in Jackson.
Smith Robertson School (528 Bloom St.)
Jackson's first public school for African Americans opened in 1894 and operated until 1971, when public schools in Jackson were desegregated. Richard Wright, author of "Native Son," graduated from the school in 1925. It is now a museum of African American history in Mississippi.
More stories by this author
Support our reporting -- Follow the MFP.