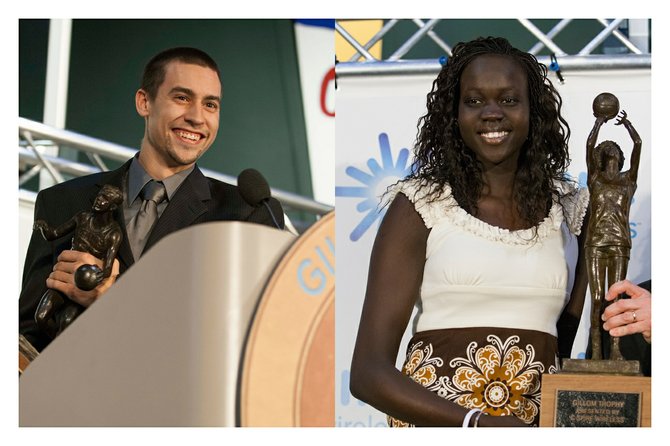 C Spire named Ole Miss' Marshall Henderson and Mississippi State's Martha Alwal the state's best college basketball players Monday at the Mississippi Sports Hall of Fame.
Henderson is the first player from Ole Miss to win the Howell Trophy, which has been awarded to the best male player in the state since 2005. The guard led the SEC in scoring with 19.7 points per game, and is second in the nation with 121 three-point shots made on the season.
The Texas native said he liked to see representatives from the state's three major universities get together for the award ceremony.
"I don't know a whole lot about Mississippi and sports here, but it's nice we can come together and at least pretend we like each other for a little while," Henderson said after accepting his trophy.
Former Ole Miss and U.S. national women's coach Van Chancellor was the keynote speaker at the awards luncheon. In describing Henderson's style of play, he said Marshall has never seen a shot he didn't like and think he could make.
The Rebels are on the bubble, and probably need a couple of big wins at the SEC Tournament in Nashville, Tenn., this week to get an invitation to the NCAA Tournament. Many fans and media alike have said if the Rebels fail to make the big dance this year, coach Andy Kennedy may be looking for a new job in the off-season.
Kennedy joked that would make him similar to the men who coached Henderson at Utah and Texas Tech, where the junior spent short stints before going to junior college and joining the Rebels this season.
"Both those coaches got fired," Kennedy said while introducing Henderson at the luncheon. "Sometimes with his shot selection, I think (Henderson) is going for the triple crown. He's close, if you read the papers."
Alwal almost averaged a double-double on her way to winning the C Spire Gillom Trophy as the best woman player. The 6-foot-4 sophomore averaged 12.1 points per game and led the SEC with 9.7 rebounds per game. She also tied for the SEC lead with 2.6 blocks per game.
"I guess all those 5 a.m. workouts and long practices worked for something," Alwal said Monday after receiving the award.
Alwal led the SEC with 16 double-doubles. Head coach Vic Schaefer called SEC women's basketball the triple-A of the WNBA, which makes Alwal's numbers even more impressive.
"For her to have that many double-doubles in the SEC is incredible," Schaefer said.
SEC league coaches named both Alwal and Henderson to the All-SEC second team.
More stories by this author
Support our reporting -- Follow the MFP.