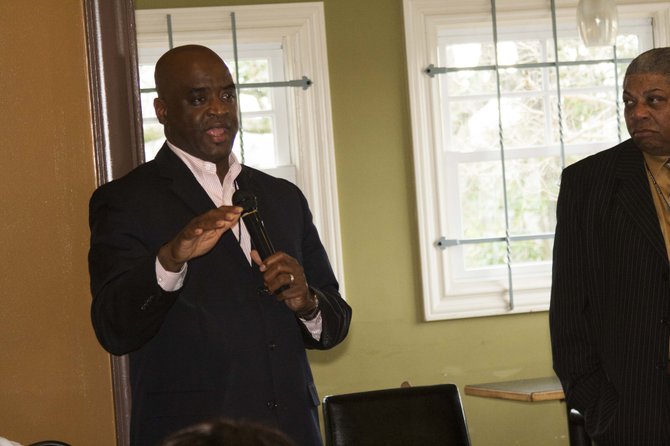 Reader poll
Yes

36%

No

45%

Undecided

18%
11 total votes.
Jackson State University officials spoke publicly about a plan to build a state-of-the-art domed football stadium for the first time this morning.
Vice President of Business and Finance Michael Thomas told the audience at Koinonia Coffee House's Friday Forum that the 50,000-seat stadium will cost about $200 million to build.
Thomas said JSU will try to get as much financial help from the state as it can for the construction of the stadium. House Bill 1589, which would allow the state to issue up to $75 million in general obligation bonds to help fund the stadium, is currently in the Ways and Means committee.
"There's going to be some private dollars, there's going to be some public dollars, and some dollars are going to be funded through the anticipated revenue from the project," Thomas said.
Some of the anticipated revenue includes selling the stadium's naming rights, as well as luxury boxes within the stadium.
JSU has identified four possible sites for a location, Thomas said. The university owns about 60 percent of the land on one of the proposed sites, 80 percent on two of the sites and 100 percent of the land on one possible site.
JSU football coach Rick Comegy said the stadium could give the Tigers a big recruiting edge in the SWAC.
"Young people today enjoy nice facilities," Comegy said. "I think (the dome) is going to make a great impact on our program when kids come up and visit and see the modern stadium and the technology that hopefully will be in there."
Apart from wanting a stadium on campus, JSU is also feeling pressure to get out of the university's current football home, Veterans Memorial Stadium. That stadium, first opened in 1950, sits in the middle of the strip of land along Woodrow Wilson Avenue that several groups hope to transform into a health-care corridor.
The corridor would include a collection of medical and other health-related services, including retailers and manufacturers stretching from Interstate 55 to Interstate 220. The plans include medical developments on the land where Veterans Memorial Stadium sits today.
The university will use the facility for football and basketball games, concerts and other school and non-school-related functions. Thomas said activities will take place in the stadium about 200 days per year.
Construction will include a parking lot for tailgating close to the stadium, Thomas said. JSU is exploring the possibility of building an adjoining parking garage.
Correction: An earlier version of this story stated that JSU would use money from selling Veterans Memorial to fund the new stadium. Under 2011 House Bill 1158, once JSU begins playing home football games in another venue, ownership of Veterans Memorial Stadium will transfer from JSU to UMMC. Therefore, JSU will not have the option to sell Veterans Memorial or the surrounding land. The JFP apologizes for the error,
More like this story
More stories by this author