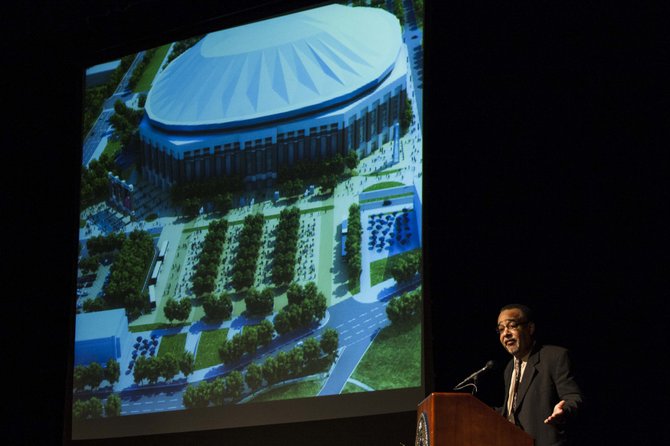 Jackson State University is aiming for a lofty peak, hoping to fill what some see as a real need in the capital city with its plan to build a $200-million domed stadium on campus.
David Hoard, JSU vice president of institutional advancement, said the university will attempt to fund most of the 50,000-seat dome with public funds, including $30 million to $60 million in new market tax credits and $40 million to $50 million in amusement tax. JSU hoped to get as much as $75 million in general-obligation bonds from the state Legislature, but a House bill that would have provided the funds died last week.
"Many of the stadiums at state institutions over the past 50, 60 years have utilized state money," Hoard said. "It's not just a stadium for Jackson State. We see it as an investment for the city, the county and the region. The economic impact will be dramatic."
The announcement comes on the heels of a city-ordered study for a new arena in Jackson. With that study, Washington, D.C.-based Brailsford and Dunlavey suggested that the city build a $115-million, 12,000-seat arena near Farish Street. The engineering and management firm suggested the arena with the intent to host sporting events, concerts and ice shows.
That study was the result of several years of talks. Downtown Jackson Partners first began the conversation in 2008. The Jackson Chamber of Commerce took the lead on raising money for a study for a few months in 2010, before passing the lead over to the city, which hired Brailsford and Dunlavey to conduct the study.
Mayor Harvey Johnson Jr. said at a city council meeting in January that the city will not be able to fund such a project any time soon, but that the information could be useful to Jackson State in its stadium endeavors.
Hoard said JSU plans to use the stadium for more than the Tigers' football and basketball games, including many of the same events that Brailsford and Dunlavey suggested: major concerts and professional sporting events.
"We're in communications with the (New Orleans) Saints, (Atlanta) Falcons and the (Tennessee) Titans to come here for exhibition games," Hoard said. He also mentioned the possibility of NBA games held in the dome stadium.
The arena study found that a modern indoor facility with seating of 12,000 or more could draw a large number of major concerts that pass by Jackson on their way to cities like Memphis, New Orleans and Atlanta.
University Vice President of Business and Finance Michael Thomas said JSU sporting events in the dome will only take place a few dozen days out of the year, but that with all the other activities included, the stadium could be in use about 200 days per year.
There is still a hope that JSU could get some help from the Mississippi Legislature. The House passed a general obligation bonds bill for projects on college and university campuses, and legislators could still choose to add JSU's stadium to that bill. 
 Hoard said JSU isn't down and out if that doesn't happen, though.
JSU plans to let students vote on an optional student stadium fee to help raise funds. The school will also sell stadium naming rights, priority season tickets and luxury boxes to fund the build-out.
"There are about 13 or 14 various streams that add up to about $320 million, so we have options in case something doesn't work out," Hoard said.
He added that the priority seating, naming rights and sky-box rentals will make up the entire private contribution to the stadium. For priority seating, JSU is also hoping to get 2,500 donors to contribute $7,500 each, allowing them to purchase eight priority season tickets over a three-year span. That would contribute $18.75 million to the stadium's construction.
Events such as concerts and NFL exhibition games, along with JSU's plans for enrollment growth, constitute a need for such a large stadium.
"It's projected that in the next seven years, we'll be at 15,000 to 16,000 students," Hoard said. "If they bring a friend, that's 30,000 students right there. That doesn't include our alumni base and their friends."
JSU hasn't shown a need for a 50,000-seat football stadium in several years, though. Support for the athletics program has dropped in recent years, despite success on the field. JSU averaged a home crowd of just 14,461 fans in four games at Veterans Memorial Stadium in 2012. That was down from an average of 23,166 in 2011. Over the two-year span, the largest reported crowd at a JSU home game was 38,722 at a matchup with Arkansas Pine Bluff Oct. 8, 2011.
Many stadium expansions and constructions come after the need for more seating is apparent, not in preparation for it. In cases such as football-stadium expansions at the University of Mississippi and Mississippi State University in the early 2000s, as well as proposed expansions in the fundraising stages at both of those universities, the schools had multiple sell-out crowds in recent years prior to expansions.
The other major difference in the expansion at Ole Miss is that the school is not asking for public funds; they're using all private money for the projects.
A recent USA Today report on university athletic revenues shows Jackson State may not be capable of raising much in the way of private donations for the stadium.
In 2011, the most recent year the data is available, JSU's athletics program reported $6.9 million in revenues, and the exact same amount in expenditures. In other words, the JSU sports program, like the majority of NCAA programs, does not make a profit.
The most glaring number in the study is the reported contributions from private donors to the JSU athletic program from 2006 to 2011: $0. By comparison, conference rival Alcorn State University reported $150,448 in contributions over that time period. The University of Mississippi reported about $37.2 million and Mississippi State reported about $29.7 million.
Ole Miss is in the process of raising funds for the Forward Together project, which includes a major football stadium expansion and a new on-campus basketball arena. The school has estimated the total cost of the project at $150 million, and is offering priority seating and luxury-box incentives, as well as naming opportunities to boost donations, much like JSU. Unlike JSU, however, Ole Miss is not asking for public dollars.
After 18 months of fundraising, the Forward Together project has raised $77.5 million. About $60 million came in the first six months, and donations have dropped to just more than $17 million over the past year. More than $15 million of the raised funds have come in the form of direct gifts.
Thomas said the timeline for completion is still unclear, but JSU hopes to get the stadium built as quickly as possible. Without major public help, that may not be any time soon. Jackson State, a school with about $42 million less than Ole Miss in annual athletic revenue, cannot currently afford to build a $200 million stadium on its own.
"There's going to be a mix. There's going to be some private dollars, there's going to be some public dollars, and some dollars are going to be funded through the anticipated revenue from the project," 
Thomas said.
Apart from wanting a stadium on campus, JSU is feeling pressure to get out of the university's current football home, Veterans Memorial Stadium. That stadium, first opened in 1950, sits in the middle of the strip of land along Woodrow Wilson Avenue that several groups hope to transform into the health-care corridor.
The corridor would include a vast collection of medical and other health-rsselated services, retailers and manufacturers stretching from Interstate 55 to Interstate 220. The plans include using the land where Veterans Memorial Stadium sits to build medical-related businesses and hospital expansions.
Under state law, when JSU begins playing home football games in another venue, management and ownership of Veterans Memorial will transfer to University of Mississippi Medical Center.
There are four possible sites for the location of the on-campus stadium, Thomas said. JSU currently owns about 60 percent of the land on one of the proposed sites, 80 percent on two of the sites and 100 percent of the land on one possible site. 
 If built, the stadium would be the only on-campus domed football stadium in the entire southern United States.
JSU football coach Rick Comegy said the stadium could give the Tigers a big recruiting edge in the SWAC.
"Young people today enjoy nice facilities," Comegy said. "I think (the dome) is going to make a great impact on our program when kids come up and visit and see the modern stadium and the technology that, hopefully, will be in there.
Construction plans also include a parking lot for tailgating close to the stadium, Thomas said. JSU is exploring the possibility of an adjoining parking garage.
Comment at www.jfp.ms. Email Jacob D. Fuller at [email protected]
More stories by this author
Support our reporting -- Become a JFP VIP.
The news business has changed dramatically in the past year, and we need your help more than ever to keep bringing you important stories about Jackson and the Metro. Become a JFP VIP with an annual membership or you can Sign up as a monthly supporter. Thanks for anything you can do to empower our journalism!