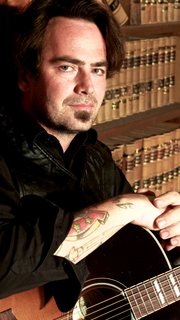 While he may be a relative newcomer to Jackson and to our music scene, Eric Blackwell is no newbie to music. Born in Hattiesburg, Blackwell grew up in Houston, Texas, and at 14, started playing guitar in local punk bands in the neighboring city of Texas City. Blackwell then left to pursue his dream of being a professional musician by moving to Austin and playing in different bands in the city's thriving music scene for five years.
After opening up one night for rockabilly/psychobilly band, The Hillbilly Hellcats based out of Denver, Colo., the group asked Blackwell to join the band and tour with them, traveling all over the United States and Europe.
He then moved back to Hattiesburg, where he decided after years of playing and performing, that he would take a much-needed sabbatical from music. Blackwell's time off only lasted two years, and once he decided to get back in the music world, he took off with a vengeance, performing with southern punkers Before I Hang, Feature Seven and Pure Fire Project.
Blackwell also became friends and music partners with local Hattiesburg favorite, Mark Mann, helping him record his new album, "Brand New American" with his band the Marked Men. Blackwell also stayed on and became a member of the Marked Men, playing dates in the Pine Belt as well as regionally.
Blackwell says it was a bit of a transition moving from Hattiesburg to Jackson and getting acclimated to our diverse music scene, but he seems to have made the adjustments well. Blackwell believes that Jackson's music scene could benefit multiple artists. He appreciates seeing different genres of music collaborate, turning others on to different types of music that they wouldn't normally listen to on their own.
Blackwell also enjoys giving advice to budding singers and songwriters. He believes in playing as many open-mic nights and singers/songwriters nights as possible, as well as recording and distributing your material via the Internet or EP's to develop a fan base.
"Playing other venues in other cities, as well as writing songs from your heart will help you relate to the common man," Blackwell says.
When it comes to writer's block, Blackwell says the important thing is to keep writing, pushing through and suffering through the block. "It's hard to write about what you know sometimes without incriminating someone or a certain incident," Blackwell says. "But keep writing anyway." He also adds that taking a break from songwriting, then coming back to try it again, has boded well with him in his music career.
In 2011, Blackwell and his wife, Katherine, moved to Jackson after he graduated from USM with a degree in tourism, and landed the job as assistant manager at Guitar Center (1189 E. County Line Road, Suite 4.) Right now, he balances a full-time job and focusing on his new band, The Troubledors, with Katherine and friend Hollis Jones. They are all working on material for an upcoming EP with a predicted late spring/early summer release.
More stories by this author
Support our reporting -- Follow the MFP.