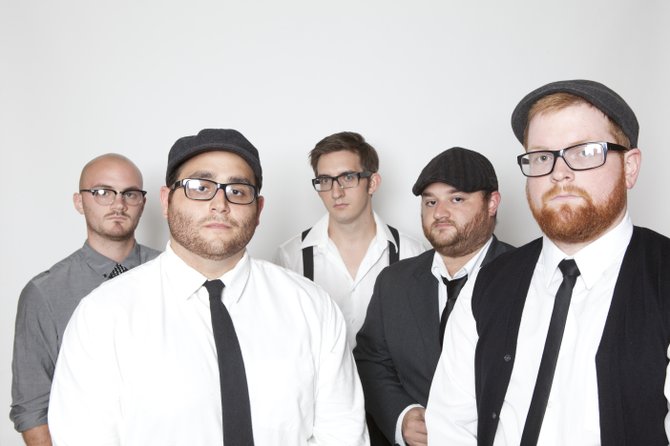 Since 2011, Hattiesburg indie-rock band The Mount Rushmores has prided itself on being a "different kind of band." The Mount Rushmores is supposed to be a "big name for a band that doesn't really care about being big," Stricklin says. The Mount Rushmores is all business when it comes to music, but the band members also love to have a lot of fun while doing it.
"From our goofy stage costumes to our out-of-nowhere lyrics to our humble attitudes that show we are all about the fans, we like to make people remember our show," lead singer Jeremiah Stricklin says.
With Stricklin on lead vocals and guitar, the band also includes Ethan Manning on guitar, Josh Stricklin on bass, Charley Tynes on keyboard and guitar and Paul Howayeck on drums.
Stricklin says the band claims Coldplay, Death Cab for Cutie, Switchfoot and Mutemath as influences, but the Rushmores still has a style that is very distinct.
"We like to do every show in ties. You can tell we take our shows very seriously, but we still love to have fun. People also listen to our songs and wonder where we're going (with them). Then, I finally tie it all together with our lyrics," Stricklin says. They don't want to be a cliché band.
On Oct. 7, The Mount Rushmores performed at the Jackson Jamboree at the Spencer Perkins Center. Stricklin emphasizes that the band was humbled to play in a show that included greats like Switchfoot.
The Mount Rushmores expects its debut album, "A Happy Home for Your Haunted Heart," to be released in December 2012. It will be available on iTunes, Spotify and Amazon. The band is also planning for shows at Hal & Mal's for later this year with dates to be announced.
The Mount Rushmores' EP, "Who You Hope To Be," is now available on iTunes and themountrushmores.com. For more information, find The Mount Rushmores on Facebook.
More stories by this author
Support our reporting -- Follow the MFP.