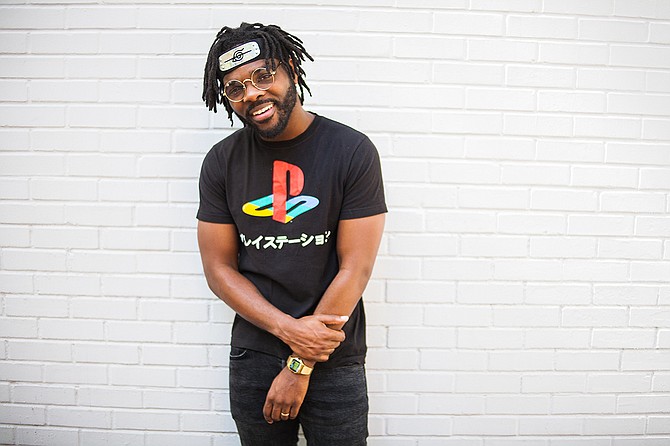 Rapper Silas Stapleton, whom fans know as just Silas, says he never imagined the amount of attention that would come from his debut solo album, 2016's "The Day I Died."
"The responsibility that has been demanded of me as far as people asking for music and performances has been unbelievable," he says. "It has made me a lot more busy."
Stapleton, 30, grew up in Jackson. At the age of 12, he began playing trumpet and was in band at Murrah and Bailey Magnet high schools.
Before he released "The Day I Died" last year, he stopped playing the trumpet, as he thought it did not fit his persona as a hip-hop artist, he says.
"I was fitting a certain mold—a mold the world gave me," he says. "I finally made it in, and it wasn't all it was cracked up to be. I feel like I let a lot of people down who were chasing a fake reality of a person I thought I was supposed to be. I wanted to get back to who I was originally, and I never had that chance."
Stapleton says that he recently started playing the instrument again.
He describes his most recent album as "real music" with a nostalgic story that is not just about his life, but the life of the city of Jackson.
"It's a time box filled with several great memories of the past," Stapleton says. "For me, it was about remembering a time when my life was less stressful, and I really hope this album has helped other people do the same. I was finally able to let the listeners know that should always be themselves. The way God made you is the way you are supposed to be. You're always going to be good enough."
With the responsibility that followed the success of his album, he says, there was also a creative fire. "It means that I want to raise my own expectations," he says. "When people follow you and see you as having a great project, it makes you want to make more music."
This attention also led to coverage in publications such as Vibe and his wide-spanning "The Wiz Tour," which has taken him not only all over Mississippi, but also in states such as Florida and Illinois. His next local performance is at Jacktoberfest on Friday, Oct. 11.
Through all the attention, Stapleston says that he has tried to stay true to his roots and feels that fans consider him an "artist" because of his attention the craft.
"Lyrics are important to art," he says. "People have noticed my lyrics and my delivery. Art has to sound interesting."
Visit dear-silas.com.
More stories by this author
Support our reporting -- Follow the MFP.