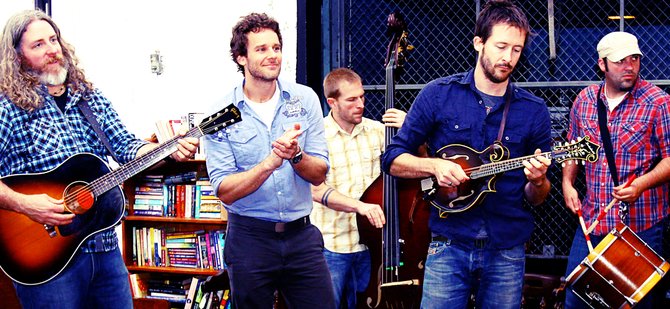 Alternative-country-rock band Carbon Leaf has been pleasing crowds with its energetic and eclectic sound for 22 years, blowing the minds of audiences and critics alike. The Richmond, Va., quintet will make its first appearance in Jackson as part of its Indian Summer Revisited Tour, which stops at Duling Hall (622 Duling Ave., 601-292-7121) Sept. 24.
Carbon Leaf recorded a 10th-anniversary album to pay homage to 2004's "Indian Summer," the milestone release that earned the band its first mainstream radio play, with hits like "Life Less Ordinary," "Let Your Troubles Roll By" and "What About Everything?"
"Indian Summer Revisited" is an update of the entire breakout album, with new instruments and mixing. "It's a re-interpretation of the original. The tracks and lyrics are the same, but it's much richer and, we think, better vocally," says lead singer Barry Privett, 43. "We were able to use a lot of new equipment in the recording process that wasn't available 10 years ago, so this was a way to honor our fans with a new and improved version of the album that they loved so much. We made some minor tweaks and a few changes in mixing, but overall, our fans should be happy with the final product."
Privett says that using the band's personal studio resulted in a greater interpretation of the group's hits. "Indian Summer was our major label debut for Vanguard Records. Now that we're an indie band again, we can really experiment with different instruments and mixing on the album," he says. "It's amazing how much technology has changed in the music industry since we originally recorded the album. Limitations are good, but when you are an indie band, artists have the power."
Carbon Leaf is known for its folk, Celtic, acoustic rock and roots sounds, as well as a variety of experimental instrumentations, where the members tap into less conventional choices. Privett plays acoustic guitar, penny whistle and the bagpipes; Terry Clark, 43, plays electric and acoustic guitars and provides background vocals; Jason Neal, 33, plays drums and various percussion instruments; and Jon Markel, 38, plays electric and upright bass. Carter Gravatt, 40, manages the most instruments, playing mandolin, lap-steel and violin, plus acoustic, electric and 12-string guitars.
Musical acts such as Neil Young, AC/DC, Phish, Grateful Dead and REM influence Carbon Leaf's songwriting. "We bring all of those into a pot and mix together. We write collaboratively as a band, so everyone brings their talent to the table," Privett says. "We are true friends, and we've always had a great relationship. We have great fans, and we know what it takes to relax and connect to the audience."
Privett promises an interesting show in Jackson and is excited about playing at an intimate venue like Duling Hall. The set will feature acoustic and electric tracks from "Indian Summer" and other critically acclaimed songs from Carbon Leaf's two-decade career. "We're looking forward to a diverse show for everyone. People will leave being glad they gambled on coming."
Carbon Leaf performs at Duling Hall Sept. 24 at 7:30 p.m. Tickets for the Sept. 24 show are available at Duling Hall and ticketmaster.com. "Indian Summer Revisited" is available on iTunes and other online music retailers. For more information, visit carbonleaf.com.
More stories by this author
Support our reporting -- Follow the MFP.