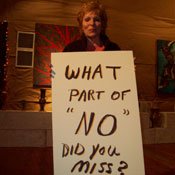 Lysistrata had a plan to end the 20-year Peloponnesian War between Athens and Sparta. In the year 411 B.C., she gathered women in the warring region together for an important meeting. Then she told them her simple plan for a peace treaty: The women would withhold sex until the men decided to end the war.
The women weren't at all thrilled about the proposal. "I would walk through fire—do anything else," the character Cleonice says in Aristophanes' play, "Lysistrata."
Sex jokes have not changed much in more than 2,000 years—from double entendres to men walking oddly. The innuendos translated well with plenty of nudges and winks from eight Jacksonians on stage Friday night. Four men and four women presented a reading of "Lysistrata" Jan. 13 at The Commons at Eudora Welty's Birthplace during the "No Means No Protest." About 30 people came to show support for blocking potential personhood measures in the Legislature.
The reading came at the end of busy week of speculation about possible personhood bills sponsored in the Legislature. Although the Legislature had not attached numbers to any bills as of Friday, pro-personhood factions were confident it would happen soon. Les Riley, founder of Personhood Mississippi, told the Jackson Free Press last week that he expects to see one bill in the house and one bill in the senate some time this week.
Voters defeated a Personhood ballot initiative in November. The proposed constitutional amendment would have included fertilized eggs in the definition of persons. More than 58 percent of Mississippi voters rejected the initiative.
Whitney Barkley, a consumer-protection attorney, got the idea to say "No Means No" by presenting the reading of the classic satire last fall as election fever heated up. She wanted to attract like-minded Mississippians and encourage women to find solidarity.
Before the reading, Barkley explained the ancient Greek woman's peace-treaty strategy to the audience.
"We are not encouraging anyone to use it in Mississippi," she said. The audience, about half men and half women, laughed. The political lines did not appear drawn along gender in this group.
In a slightly more serious tone, Barkley said women in recent years have used collective abstinence as a political statement in Kenya and in Colombia.
Before and after the meeting, representatives from Parents Against Mississippi 26 and the American Civil Liberties Union encouraged those who came to sign petitions. Some attending were still stumbling as they said "Gov. Phil Bryant" for the first time. Atlee Breland, founder of PAMS26, had Valentines for voters to sign and send to their representatives and senators.
Elaine Talbott of Madison came to the "No Means No Protest" expecting a rally. She and several friends brought hand-painted signs. She had learned about the event on Facebook. Talbott said she was one of the people who started the "It's Not Easy Leaning Left in Mississippi."
"I'm from Madison, where it's really not easy leaning left," she said.
Previous Comments
ID

165791

Comment

It is my sincere hope that the MS Legislature, led by a majority of Republicans in both Houses, will not wast the State's time, energy and money trying to re-enact the "personhood initiative". Isn't one failure enough? One would think that in these very tough economic times, our elected officials would have a focus on strengthening the economy, creating adequate funding for education, pay raises for teachers, firemen, police officers and on our crumbling infrastructure. MS has spoken as have all other states that have been faced with this crazy bill on their ballots. The question asked by Ms. Barkley is a valid one, "What part of "NO" did you miss?"

Author

justjess

Date

2012-01-19T14:01:08-06:00
More stories by this author
Support our reporting -- Follow the MFP.