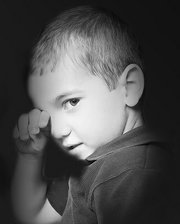 Olivia Y. was 3 years old in 2004, a neglected toddler of an unequipped mother. The state became her father and took action. Mississippi Department of Human Services' Division of Family and Children's Services found a place for the toddler to live, but Olivia's life did not improve.
The foster home was not a haven for the little girl no one cared about. One of the people living in the home was a convicted rapist.
Months after she moved in, doctors gave the skinny, smelly little girl a physical exam. Olivia was malnourished and had scalp rashes. That's not all. Her vagina was red and swollen, but the doctors didn't examine her for sexual abuse.
Olivia is just one of thousands of children that filter through DFCS each year. In 2004, the New York-based advocacy group Children's Rights filed a class-action lawsuit in the toddler's name, Olivia Y. vs. Barbour. Three years later, the court implemented a reform plan for DFCS, and Children's Rights agreed to the settlement.
That was in 2007. Six years later, an independent monitor finds that DFCS still isn't complying with the court order. Grace Lopes, the court-ordered monitor, reported June 29 that DFCS did not have effective management to comply.
Lopes collected statistics from Jan. 1, 2009, through March 31, 2011, and found that DFCS investigated less than 60 percent of child-abuse reports within the required 24 hours or completed its investigation within the 30-day timeframe. Lopes also reported that fewer than 60 percent of caseworkers made follow-up visits. But her report also indicates this may not be the whole picture.
Marcia Robinson Lowry, founder and executive director of Children's Rights, said her group doesn't have the information it needs. She didn't want to characterize the motives of DFCS officials who are not complying with the court order. The two main issues, she said in a phone interview, are inadequate staffing at the state agency and that agency's lack of maintaining accurate data.
Children's Rights will push the courts to make the state take prompt action "even if we don't have data," she said. The court could require 90-day monitoring reports. "If they fail, we will collect the data."
Mississippi started a new approach to its data collection last year, and Lowry wants the agency to follow through on its compliance to the court order. While Lowry would like for this to work, she is prepared to take the next step in the legal cycle.
"The state has known this for a long time," she said. "They've been under a court order for a long time."
Olivia is 12 now.
Comment at www.jfp.ms.
file photo
More stories by this author
Support our reporting -- Follow the MFP.