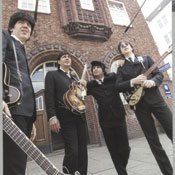 Four smiling mop-topped men with skinny ties strum guitars to a familiar backbeat. "She loves you, yeah, yeah, yeah," they confirm in unison as if they really know something. Paul's big eyes and John's long chin move with the rhythm. It's the present, 2012, but the 1960s have returned. The four men in skinny suits not only sound like the Beatles, each member of this tribute performance resembles one of the Fab Four.
The act is Classical Mystery Tour, a traveling tribute performance backed with a symphony orchestra. The show, based on a Broadway production, gives a chronological repertoire of the Beatles' hits. It comes to Hattiesburg's Saenger Theatre June 9 as the big opener for FestivalSouth. Organizers of the two-week arts festival say it's a perfect fit for attracting audiences to the Hub City.
"They approached us," Mike Lopinto, the public relations, marketing and event coordinator of FestivalSouth, said.
Lopinto is not surprised a Broadway troupe wants to play in south Mississippi. He's worked for years promoting the University of Southern Mississippi School of Music and its music director and conductor, Jay Dean. The Southern Miss Orchestra attracts guest performers such as Yo-Yo Ma and Renee Fleming. Dean, who has built a career on international collaboration, also directs the Mississippi Opera. He most recently wrapped up as artistic director of the Natchez Music Festival.
Dean is artistic director of FestivalSouth, now in its third year with more venues, more performances and larger audiences. Although the festival includes many Southern Miss musicians and strategists, it is not an official university function. It's under the umbrella of the Hattiesburg Concert Association and represents a collaboration of several arts groups and tourism promoters. The eventual goal, Lopinto said, is to have people book a cultural vacation in Hattiesburg.
Headliners help defray the costs of putting on a summer arts festival of this scale, Lopinto said. Most of the 72 events packed into the two-week window from June 9 to June 23 are free. But three big-ticket shows - - the Beatles tribute, the opera "Don Giovanni" set as a Civil War-era tale with a Scarlett O'Hara heroine and a closing show from singer Christian Sandi Patty performing Broadway standards in a massive Baptist church - - are expected to attract mainstream crowds. They are what pays for the classical musicians and the logistics of operating a festival with numerous venues including churches and bars, downtown spots and neighboring communities, all itching to get some attention.
The classical performances draw many more visitors, musicians and artists. South Mississippi Ballet is producing "Don Quixote" with as many as 20 professional guest dancers coming from all over. Someone has to coordinate who is where when and ensure that people come to hear and see the acts.
Planning for FestivalSouth goes on all year, but two weeks before the first show, daily meetings and long hours become the norm. At a May 29 meeting of the minds, Jay Dean sat at the head of a table in a crowded meeting room. About 20 people with open laptops waited for his notes. These weren't artistic notes. He conducted teams dealing with scheduling, name recognition, backstage lighting and social media. Like the eye of a hurricane, Dean calmly called for attention to detail, proper communication and incessant social media plugs. He warned that things might get stressful.
"Our first priority is happy customers," Dean said, looking over his laptop and papers. He encouraged everyone to remember the performances are high quality and to reflect that professionalism when dealing with ticket buyers. He also emphasized the need to treat each performer like precious gold.
"Happy artists give great performances," he said.
One of FestivalSouth's biggest challenges is finding the money to do it all. The goal is to break even, Dean said. Grants, interns and volunteer time help make that happen. The Mississippi Tourism Department is promoting the festival this year, and next year Lopinto hopes they advertise out of state.
"We have sponsors approach us," Dean said. "Not too many arts organizations can say that."
For information, including a complete schedule of events, and to buy tickets, visit festivalsouth.org or call 601-296-7475. Ticket prices vary; most events are free. Check before going. A circle pass, which includes all paid events, is $180; you save $50.
More stories by this author
Support our reporting -- Follow the MFP.