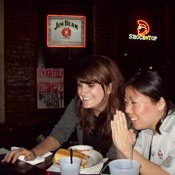 Just before 10 p.m. last night, Lori Gregory Garrott ran out of her Fondren home, stood on the front lawn and looked around before shouting, "We just won!" She yelled again, louder: "We just won!" The co-founder of Parents Against 26 had to tell the night sky a third time that Mississippi grassroots mamas defeated the Personhood Initiative.
Mississippi voters said no to Initiative 26, the proposed amendment that would have defined a "person" as including a fertilized egg. (See our previous story, Personhood: A Pandora's Box.) With most precincts reporting, almost 60 percent of voters opposed the measure.
Activists who worked on several grassroots campaigns nervously watched the percentages after the polls closed Tuesday night. Some met at Ole Tavern on George Street to wait for the returns.
"It's been a long couple of months," Michelle Colon of Hell No! on 26 and 27 said at the Ole Tavern gathering. In September, she started her own Facebook campaign because she was frustrated that no group in the state seemed to stand against Personhood supporters. Many other Mississippians did the same thing Colon did about the same time the state Supreme Court ruled in September that the initiative would be on the ballot. Colon says that grassroots surge reassured her in recent weeks that the initiative would fail.
"A lot was done with little money," Colon said.
Shelley Abrams, executive director of the Jackson Women's Health Organization, wore a T-shirt that read "Get Out of My Vagina!" at the Ole Tavern gathering. About a dozen Hell No! and No on 26 supporters waited for results, including people from Mississippi ACLU and Mississippi Center for Justice. Abrams represented Wake Up, Mississippi. Earlier in the day, she stood on the side of the highway in Clinton dressed as an egg with others who opposed the initiative. She also donated money for the "Eggs Are Not People" billboards opponents put up.
"The world is watching us," Abrams said after a news crew from Al Jazeera showed up. A reporter from Reuters interviewed her later in the evening.
On a somber note, Abrams said if the initiative failed, a real danger lurked for doctors who work at her clinic, the only abortion facility in Mississippi now, which is in Fondren. She didn't want to create fear or drama, she said, but it is a reality she has to consider.
Whitney Barkley, who works for Mississippi Center for Justice, suggested if the Personhood Initiative passed, then all women should leave the state. "It's like the Day Without Immigrants," she said. "It will be the Day Without Women."
"I hope Mississippi shows the rest of the country we're not as backwards as they think we are," Lilly Lavner said as the results started to pour in.
Mississippians for Healthy Families and Parents Against 26 had a political watch party at Walker's Drive-In in Fondren. At 9:30 p.m., activists paced the sidewalks, all of them on cell phones. The major news outlets were about to announce the defeat of the initiative.
In Lori Gregory Garrott's home, about 20 women shouted, hugged and cried when CNN declared the failure of the initiative. "This is how we do it!" someone yelled from the hallway.
"I didn't think it would happen," Garrott said, sinking into a chair in her living room. After her elation and shouting, she began to cry. "In one second, I realized the coup we just did." Other women hugged her.
Some other women sifted in from the kitchen, one with a 6-week-old baby. They got on YouTube and played a music video, "All I Do Is Win." Someone found the On Demand videos on the TV, and they danced to "Baby Got Back!"
Michelle Colon showed up at the house party, hugging everyone. While she was elated that Initiative 26 failed, she wasn't happy that Initiative 27 requiring voter identification at the polls passed.
"It's a poll tax," she told some of the women on the couch. Colon said she is worried that white liberals didn't care enough about voter ID. She's heard many people say, "What's the big deal? So you have to show your ID?" She was explaining this to the women on the couch between dance sets.
"Look at us," Colon said. "Christians, whites, blacks, Rankin County housewives--we did it! There will not be a theocracy."
Previous Comments
ID

165351

Comment

Why am I constantly in articles that use the word "vagina"?

Author

Lori G

Date

2011-11-09T14:51:30-06:00
ID

165359

Comment

Lori, it's because you're an outspoken, responsible, mature, intelligent, and logical young woman who is not afraid to get involved when the need arises, no matter the topic or the words associated with it. You're to be commended, you and all of the others who got the word out and brought about such a monumental result. I am so proud for the women of Mississippi and their loved ones. Hallelujah!

Author

Lynette

Date

2011-11-09T20:20:43-06:00
ID

165361

Comment

So much attention, rightly so, paid to #26. Little, if any, attention paid to #27. So few people cared that voter id equated to voter suppression. Who stays home because they are afraid they will be turned around at the polls next year if they don't have proper ID? Take a good guess. Just in time for 2012.

Author

833WMaple

Date

2011-11-10T09:15:32-06:00
More stories by this author
Support our reporting -- Follow the MFP.