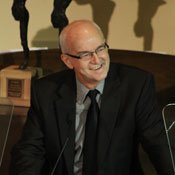 Carl Jackson was just 14 years old when he got his big break in the music business. The Louisville, Miss., native was jamming backstage following a Virginia Boys concert in 1967 when he so impressed the musicians with his guitar and banjo playing that bluegrass legends Jim and Jesse McReynolds asked him to join the band. He hit the road and never looked back.
Jackson started playing banjo when he was 8 years old, inspired by his father and uncles, who had a bluegrass band called the Country Partners.
"I was part of it by the time I was 10," he said in a telephone interview from his home in Gallatin, Tenn. "My mom was a really good singer. It really set me on fire. All I wanted to do was play music—or baseball. The music fell into my lap quicker. That was my dream—to play music or centerfield for the New York Yankees."
Baseball's loss was music's gain. Jackson has crafted a stellar career as a musician, songwriter and producer over the past five decades. His song, "Little Mountain Church House," earned the 1990 International Bluegrass Music Association song of the year award, and Vince Gill's rendition of Jackson's ballad "No Future in the Past" won country song of the year for 1993. He won his first Grammy in 1992 for his album "Spring Training" and two Grammys in 2003 for "Livin', Lovin', Losin'—Songs of the Louvin Brothers." The project's duet, "How's The World Treating You," featuring James Taylor and Alison Krauss, also won a Grammy. He has also won a Dove Award from the Gospel Music Association, and in 2006 he was inducted into the Mississippi Musicians Hall of Fame.
After five years with the Virginia Boys, Jackson joined the Sullivan Family for a short time before forming The Country Store with Jimmy Gaudreau, Bill Rawlins and the late Keith Whitley. Whitley and Jackson attended a concert by Glen Campbell at the Ohio State Fair, and ran into Campbell's banjo player, Larry McNeely. After a jam session, McNeely told Jackson he was tired of touring and asked if he wanted the job.
"The 'Glen Campbell Good Time Hour' (TV series) was huge when I was in high school," Jackson said. "I was already on the road. My classmates signed my yearbook saying, 'See you on Glen Campbell someday.' The next thing I know, I'm sitting in front of Glen Campbell; he hired me on the spot."
Jackson spent 12 years touring with Campbell, who called him "the greatest banjo player in the world."
He eventually left to record several albums of his own. He also produced, played with and wrote songs for the biggest names in country and bluegrass music. Jackson's resume includes a Who's Who list of Nashville legends, from Tammy Wynette, Merle Haggard and Dolly Parton to Garth Brooks, Hank Williams Jr., Brad Paisley and dozens more.
On Dec. 26, 2011, Mississippi placed a Country Music Trail Marker highlighting Jackson's career in Louisville, near the historic Strand Theatre, where he performs his annual "Home For Christmas" concert each December. Not only did Jackson watch movies there when he was a boy, he was born on the third floor, which housed a clinic in 1953.
Mississippi honored Jackson Feb. 16, when he received one of the 2012 Governor's Awards for Excellence in the Arts.
Congratulations on the Governor's Award. Were you surprised when you got the news?
I guess surprised would be a good word. Honored would be a better word. To be honored by the state of Mississippi means more to me than I can say. I love coming home. My father still lives in Louisville. I come down a lot during football season; I'm a big Ole Miss fan.
How did your parents feel about letting you hit the road when you were only 14?
I'm sure there was some hesitancy. The first trip we went on, I was gone for two weeks. I was one homesick little boy. I can still see my sister crying. But Jim and Jesse were good people, and I guess my parents knew I'd be OK.
Are you still close to Glen Campbell?
Very close—Glen and his whole family. I introduced Glen to his wife. He credits her with saving his life. His daughter, Ashley, is my goddaughter.
Glen recently revealed that he has Alzheimer's disease. How is he doing?
He's doing good. He remembers me. He doesn't forget his lyrics or guitar parts. But Glen's got a smile on his face all the time. He's wonderful. He still sings great, he plays great. He's living one day at a time, and he's living it well. I went to dinner with him a few weeks ago.
You've worked with pretty much every country and bluegrass star. Do you ever marvel about your career and the legends you worked with?
When you stop long enough to think about it, it's overwhelming. But when you're doing it, you do take it for granted. God's blessed me so much. I read that bio (on http://www.carljackson.net) and it's amazing to me sometimes. You just do it, and you try to take pictures. I wish we'd had iPhones when I started.
What's your latest project?
"Mark Twain: Words and Music." It's the life story of Mark Twain. Clint Eastwood narrates it, and Jimmy Buffett is Huck Finn. It's to raise funds for the Mark Twain Boyhood Home in Hannibal, Mo. It's a double CD, and it's available on amazon.com, the museum website (http://www.marktwainmuseum.org) and at Cracker Barrel.
More stories by this author
Support our reporting -- Follow the MFP.