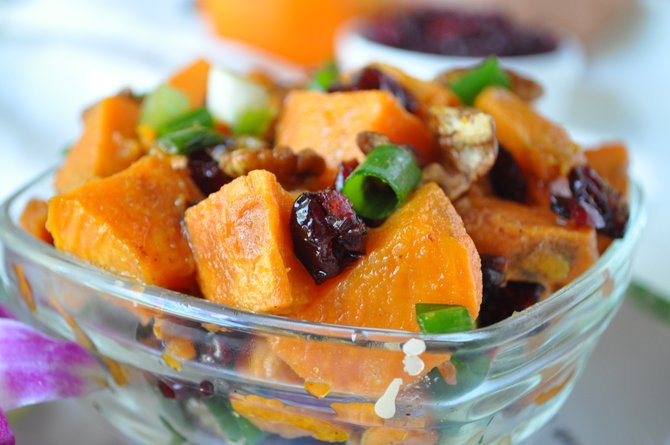 Sweet potatoes are as southern as sweet tea and the Sweet Potato Queens themselves, but these orange-fleshed treats are a lot more versatile than that old standby, the Thanksgiving sweet potato casserole topped with mini marshmallows.
They can be roasted and eaten with butter like an Irish baked potato, sliced and fried, or scooped out and the skins topped with a mixture of potato pulp and cheese for a quick hors d'ouevres. Sweet potatoes can also star in a variety of sweet and savory dishes from cornbread to potato salad.
Sweet potatoes are native to Central and South America. Remnants of sweet potatoes dating back thousands of years were discovered in Peru, and the first Europeans to sample them were members of Christopher Columbus' expedition in 1492.
They are distantly related to Irish potatoes, but are botanically distinct from a true yam, for which they are often mistaken.
"True yams actually are a tough tuber (cream colored) grown in the tropics but not in the U.S., and a true sweet potato is an enlarged root of the sweet potato plant that is starchy when harvested but becomes sweeter after storage," says Holly Clegg of Baton Rouge, La., author of the "Trim & Terrific" cookbook series, and a spokeswoman for the 
Louisiana Sweet Potato Commission.
"I use sweet potatoes to replace potatoes in any recipe for an added dose of nutrition and flavor," Clegg says. "Sweet potatoes provide twice the recommended daily allowance of vitamin A and more than one-third of the requirements for vitamin C. They are an important source of beta-carotene, vitamin B6, iron, potassium and fiber. Containing virtually no sodium, one medium sweet potato contains only about 150 calories."
The U.S. Department of Agriculture reports that Mississippi produces 19 percent of the sweet potatoes consumed in the U.S. each year.
The real beauty of this humble ingredient is its sweet flavor and versatility as an ingredient. Try these recipes and taste 
for yourself.
Sweet Potato Salad
6 cups sweet potato chunks, peeled
1/2 teaspoon ground ginger
1/2 teaspoon ground cumin
3 tablespoons olive oil, divided
1/2 cup green onions, chopped
1/4 cup dried cranberries
1/4 cup chopped pecans, toasted
2 tablespoons pure maple syrup
2 tablespoons orange juice
1 tablespoon lime juice
1/2 teaspoon ground nutmeg  
Preheat oven to 425 degrees Farenheit. Line baking sheet with foil and coat with nonstick cooking spray. Toss together potatoes with ginger, cumin and one tablespoon olive oil. Roast about 30 minutes or until potatoes are crisp. Cool and transfer to a large bowl. Add green onions, cranberries and pecans.
In a small bowl, whisk together maple syrup, orange and lime juices, nutmeg, and the remaining two tablespoons olive oil. Toss with potatoes. Serve or refrigerate. Makes 12 1/2-cup servings.
Source: "Too Hot in the Kitchen," by Holly Clegg
Sweet Potato Cornbread   1 6-ounce package yellow cornbread mix
2 tablespoons sugar
1/2 teaspoon ground cinnamon
2/3 cup skim milk
1 egg, beaten
1/2 cup cooked sweet potatoes, mashed  
Preheat oven to 400 degrees Farenheit. Coat an 8-inch by 
8-inch pan (two inches deep) coated with nonstick cooking spray.
In a bowl, combine cornbread mix, sugar and cinnamon. Stir in milk, eggs and sweet potatoes, mixing until moistened--but don't 
over mix.
Transfer batter into prepared pan. Bake 20 minutes or until top is golden brown. Makes 12 squares.
Source: "Kitchen 101," by Holly Clegg
More stories by this author
Support our reporting -- Follow the MFP.