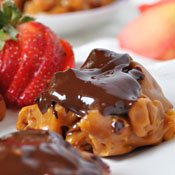 The table is set, candles are lit, and music is playing softly in the background. It's Valentine's Day, time for a romantic dinner for two. But what's on the menu?
You might want to start with an appetizer of oysters in the half shell, serve some asparagus or carrots with the main course and finish with a chocolate dessert, all consumed with a liberal amount of alcohol.
Some consider all of these foods, and many more, to be aphrodisiacs because of their sexually suggestive shapes. Asparagus, carrots and bananas have a phallic shape, while figs and dates could resemble both male and female reproductive organs and are fertility symbols. Eggs and caviar are symbolic of the reproductive system.
The word "aphrodisiac" comes from Aphrodite, the Greek goddess of sexuality and love. Throughout history, many foods and drinks have developed a reputation for making sex pleasurable or more attainable, although there is little scientific evidence to prove that the alleged results were due to anything besides the placebo effect, or the belief that these erotically shaped foods would be effective.
People have long considered oysters an aphrodisiac because they somewhat resemble the female sex organ. They are also full of zinc, which controls progesterone levels and can have a positive effect on the libido. Zinc deficiency can cause impotence in men.
Nuts are also rich in zinc, and the scent of some nuts can cause arousal in women. This is why almond extract is used in everything from cookies to perfumes. Gingko nuts are used in Chinese herbal medicine to increase libido.
People often think of chocolate as a romantic treat, but the jury's out on whether it actually has any aphrodisiac qualities. Doctors have discovered that chocolate contains phenylethylamine, a chemical that releases "feel good" endorphins in the body, but some studies have concluded that it doesn't affect the brain in any way. Chocolate can, however, contain caffeine, which is a stimulant.
One could also consider alcohol an aphrodisiac because it relaxes the body and loosens inhibitions.
Cookbook author Holly Clegg of Baton Rouge, La., included a chapter on aphrodisiacs in her saucy "Too Hot in the Kitchen: Secrets to Sizzle at Any Age" cookbook (Holly Clegg Publications, 2010, $24.95), even though she's not convinced these foods have any real romantic effect.
"Well, it was rumored that Casanova ate 50 oysters a day to boost his libido," Clegg told the Jackson Free Press. "And, 'hot foods' generate a physiological response like when you get excited, so there may be a medical reason why these foods are aphrodisiacs ... and they sure can't hurt. Of course, I always believe in it when it involves spicing things up in the kitchen. I definitely had fun with this chapter, and my husband of 32 years and I sure ate well as I tested all these luscious recipes. Love is in the air in February, so what better way to add sizzle than in your kitchen?"
If you're preparing a romantic meal to get your sweetheart in the mood for love, Clegg advises using recipes you are comfortable with, and maybe one with a little extra flair. "Don't stress about every recipe being special," she said.
But what's the harm in serving a few aphrodisiacs for a romantic meal? It might only be food for thought, but imagine the pillow talk those oysters will inspire.
Caramel Pecan Candies
From Holly Clegg's "Trim & Terrific: Too Hot in the Kitchen: Secrets to Sizzle at Any Age," used by permission.
1 (14-ounce) package caramels, unwrapped
2 tablespoons skim milk
2 cups pecans, chopped
1/2 cup dark chocolate chips or semi-sweet chocolate chips
In a microwave-safe dish, combine caramels and milk and microwave one minute. Stir and microwave another minute, or until melted. Stir in pecans and drop tablespoonfuls onto wax paper-covered baking sheets. Let stand until firm.
Microwave chocolate in microwave-safe bowl one minute or until melted, stirring once. Dip top of caramel candies into melted chocolate, allowing excess to drip. Place on wax paper and allow the candies to get firm.
Makes 30 candies.
Oysters and Angel Hair
From Holly Clegg's "Trim & Terrific: Too Hot in the Kitchen: Secrets to Sizzle at Any Age," used by permission.
12 ounces angel hair pasta
1 (16-ounce) container small oysters
1/3 cup Italian bread crumbs
2 tablespoons olive oil
1/2 pound mushrooms, sliced
1 bunch green onions, chopped
2 teaspoons minced garlic
1/2 cup fresh parsley, chopped
1/2 cup tomatoes, chopped
A pinch of sugar
1/3 cup sun-dried tomatoes, chopped and reconstituted
3/4 cup fat-free chicken broth
Salt and pepper to taste
Parmesan cheese, grated (optional)
Cook pasta according to package directions. Drain and set aside. Drain oysters and toss bread crumbs and oysters together in a resealable plastic bag or bowl.
In a large nonstick skillet coated with nonstick cooking spray, cook oysters over medium heat until browned. Remove to plate.
In the same pan, heat olive oil and sauté mushrooms, green onions, garlic and parsley, scraping bottom of pan to get bits, for about three minutes. Add tomatoes and sugar, cooking until tender. Add sun-dried tomatoes and broth and bring to boil for another five minutes. Toss in pasta with the mixture. Season to taste. Top the pasta with the oysters and sprinkle with Parmesan cheese, if desired.
Serves 2-4 people.
More stories by this author
Support our reporting -- Follow the MFP.