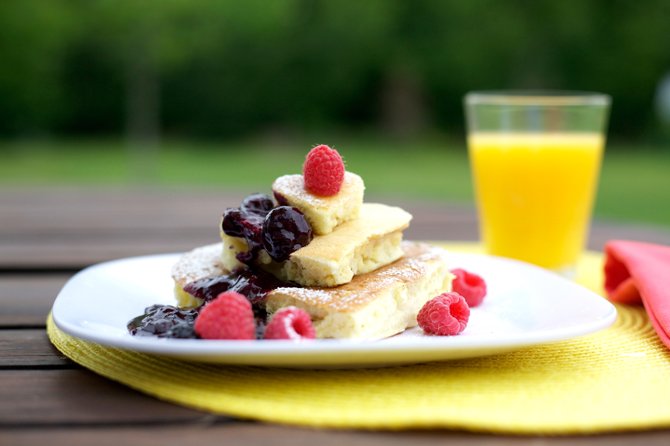 The last time I tried cooking with orange juice as a main ingredient, the results were a little disappointing.
I had found a recipe that used orange juice and a jar of orange marmalade to make a simple glaze over chicken breasts. My mistake was buying the sugar-free marmalade because it was a little cheaper than the regular. Sugar would have caramelized the glaze and made the marmalade sweeter and tastier. I ate it, but not happily. It just was not the sweet and savory dish I had imagined.
But after talking to Samantha Klein, who works for Florida Department of Citrus, about cooking with OJ, I was willing to give it another try. Citrus flavors are classic pairings with meat, as in duck a l'orange and 
lemon chicken.
The recipes Klein sent me were in line with my cooking style: simple and affordable. Orange oatmeal pancakes? I can do that! An orange and peach mint julep to wash it down? Yum! Pass the orange juice.
Try these easy but flavorful recipes the next time you serve Sunday brunch.
Fluffy Orange Oatmeal Pancakes
2 cups all-purpose flour
1 tablespoon sugar
1 tablespoon baking powder
1 teaspoon salt
1 1/4 cups whole milk
1/2 cup orange juice
1/2 cup cooked oatmeal
3 eggs, separated
3 tablespoons unsalted butter, melted
1/2 teaspoon vanilla extract   Sift together flour, sugar, baking powder and salt in a large mixing bowl. In small bowl, whisk together milk, orange juice, oatmeal, egg yolks and butter; stir to combine. Add orange juice mixture to flour mixture; stir gently just until combined.
In clean mixing bowl, beat egg whites with mixer until soft peaks form. Add vanilla extract. Gently fold egg whites into flour mixture, being careful not to overmix.
Heat a large skillet over medium-high heat for five minutes. Grease bottom of skillet with small amount of melted butter or vegetable oil. Use large spoon to drop hockey puck-sized dollops of batter in skillet. Cook until bubbles form on top of the pancake; flip with spatula and cook two more minutes, or until golden brown. Remove from skillet and keep warm; repeat with remaining batter.
Serve immediately. Serves four.
Source: Florida Department of Citrus
Florida Citrus-Peach Mint Julep
1/2 cup sugar
1/2 cup water
3/4 cup peach nectar
3/4 cup mint leaves
1/2 cup fresh peaches, chopped
4 cups Kentucky bourbon
1 cup orange juice
1 cup grapefruit juice
Shaved ice
10 orange slices, for garnish
Mint leaves, for garnish
Powdered sugar, optional   Combine sugar and water in small saucepan; bring to simmer and stir to dissolve sugar. Remove from heat; refrigerate until chilled.
Combine peach nectar, mint leaves and peaches in cocktail shaker. Muddle ingredients until peaches are crushed and mint is fragrant. In large pitcher, combine muddled peach mixture, chilled sugar syrup, bourbon, orange juice and grapefruit juice; refrigerate two to three hours until well chilled.
To serve, fill martini glass to rim with shaved ice; pour in the beverage. Garnish with orange slice and mint leaf; dust with powdered sugar, if desired. Makes 10 servings.
Source: Florida Department of Citrus
More stories by this author
Support our reporting -- Follow the MFP.