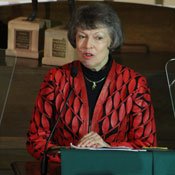 Althea Jerome has spent 35 years teaching Mississippi children how to sing. Her lifelong passion for music started when she was growing up in Dallas, Texas.
"My dad was an amateur musician, and Mother took us to piano lessons," the Hattiesburg resident recalls. "I also lived near one of the finest music schools in the nation, the University of North Texas."
Jerome enrolled there in 1963. She met her husband, Raoul Jerome, in 1965 while he was studying in the university's acclaimed jazz music program, and they married a year later. The School of Music at the University of Southern Mississippi (USM) brought them to Hattiesburg in August 1966, when the school hired Raoul to teach.
Since then, the couple has been bringing music to south Mississippi as educators and performers.
Althea Jerome is a professional singer and music teacher, who plays piano and flute. Jerome worked for the Hattiesburg Public School District for 25 years. Her students sang and played for state music conferences and for local businesses with some 340 public performances. Her students in the Hattiesburg Children's Chorus performed in All-State choirs and for choral music conferences nationwide from 1984 to 1999.
Since 2000, Jerome has been educating teachers at USM while freelancing as a teaching artist in public schools. As if that's not enough to keep her busy, she leads professional development workshops and artist residencies throughout the state. She has also served on multiple boards, including 22 years with the Mississippi Music Educators Association, 20 years with Hattiesburg Civic Light Opera and 15 years with the American Choral Director's Association. She also found time to serve on a committee to reorganize the Mississippi Alliance for Arts Education in 1989, where she is still an officer and board member.
Her numerous achievements haven't gone unnoticed. This year she received the Governor's Award for Excellence in the Arts.
Congratulations on being one of the recipients of the Governor's Award for Excellence in the Arts. Were you surprised when you found out that you won?
I was, because it's extremely competitive. I knew I was nominated, but I didn't have any confidence I would be chosen. They just choose one arts educator a year. The other slots are usually artists and writers. It's a measure of lifetime achievements. I'm very humbled to win this award. If people have confidence in my work, I'm very grateful. I feel like I have been the student all along and a lifelong learner, and it's my job to share it with others.
Why is it important for children to be exposed to music, art, theater and dance?
What they learn in the arts is generally applicable to life. When you take the arts out of the schools, you limit the curriculum students are exposed to. In kindergarten through 8th grade, all four disciplines are required (by Mississippi policy) to be taught, but if you don't have someone who is trained, it will be taught by the classroom teacher, if at all. In grades nine through 12, arts courses are electives.
How do you prepare teachers who have little or no training in the arts to teach them?
I train teachers to integrate music (into their lessons), and I do model lessons. ... I've taught a lot of students about the longleaf pine tree using music. You look at images of pine trees and pinecones with music playing behind it to give you a sense of the majesty of the tree. One of the things the arts do is help teachers vary how they present the information.
How important is it to use technology in arts education? Today's children are very comfortable using computers the Internet.
You can't do school today without doing some sort of technology. You need samples of artwork, and you can find them on the Internet. In music, there are layers of technology. Even on my cell phone, I've got music that I can plug into speakers and play in the classroom. It gives you access to things in the arts. You can show a video then ask the students to create their own work. It's innovative; it's creative. Teachers really respond to it.
Does arts education help students retain information?
That's a big problem for teachers. How do you improve performance? Arts education as a field has become very sophisticated. Years ago, the arts decided to stand together, those national disciplines of art, theater, music and dance. Federal law says the arts are to be taught as a core subject. It's become my mission to make sure (students) get that education.
More stories by this author
Support our reporting -- Follow the MFP.