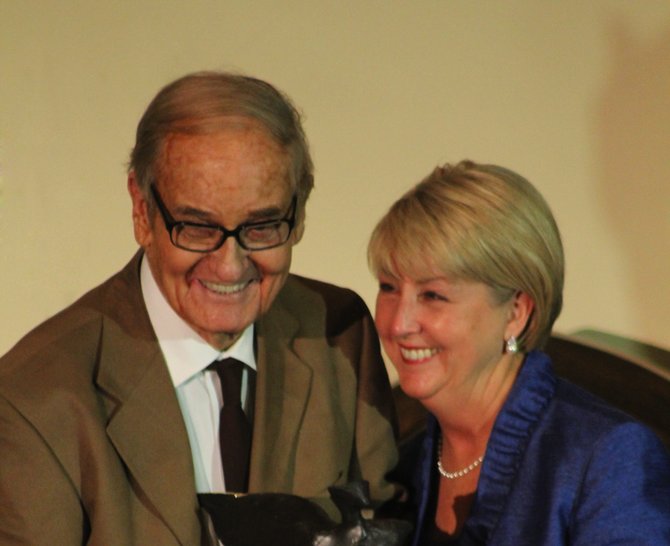 Lee McCarty was teaching chemistry at the University of Mississippi in the 1950s when his wife, Pup, decided to take a pottery class.
"She was the only female in the class. It was filled with football players, so she asked Uncle Lee to take the class with her," said Stephen Smith, the couple's godson.
The McCartys quickly fell in love with wheel-thrown pottery, and in 1954, they settled back home in the tiny Delta town of Merigold, where they began McCarty Pottery in a converted barn. Now, 58 years later, Lee and Pup McCarty are legendary in artistic circles.
A piece of McCarty pottery is a traditional wedding gift in the Mississippi Delta, but pieces also have been included in the Smithsonian Institution's collection. The McCarty studio attracts collectors from around the world who snatch up the inventive pieces, which often feature a curving black line that represents the Mississippi River.
The Mississippi Arts Council presented the McCartys with the Governor's Award for Excellence in the Arts in the Visual Arts category last February at Wells United Methodist Church in Jackson. The Greenville Garden Club nominated McCarty Pottery for the award.
"It's a wonderful tribute to Uncle Lee and Aunt Pup for a lifetime of creativity," said Smith, who is now a partner and business manager in the pottery company. His brother, Jamie, is also a partner who handles the artistic side of the business.
Pup McCarty died in February 2009, and Lee is 89.
Smith answered a few questions about the legacy of McCarty Pottery in a telephone interview.
Why is McCarty Pottery unique?
What has made us so unique over the years is the connection (Pup and Lee) had and continue to have to Merigold and the state of Mississippi. You can see it in the pieces as well as the squiggly black river, which is our registered trademark, and the Mississippi River.
How did you feel about being named a recipient of the Governor's Award?
It's been amazing and humbling. Of course we make wonderful pieces of art, but for (collectors) to make them part of their lives, it's something that means more than art. A man was here and said that he and his wife used one of our chalices in their wedding ceremony. There was an elderly lady who came and brought her great-grandchild to help her pick out her first piece of McCarty. It's part of their lives and memories. That girl will always remember that her great-grandmother helped her pick out that piece. That's what really makes it wonderful.
What was it like when Lee and Pup McCarty started making pottery?
Uncle Lee developed the glazes and the formula for the glazes. They had one little kiln and one little wheel in their apartment in Oxford. They came back to Merigold, and Uncle Lee taught science at the high school. In the summer of 1954, they opened in an old mule barn that was my aunt Margaret's. They remodeled the upstairs apartment and moved in. I don't know how they did it, because the kilns were located right below where they lived.

Do you think the McCartys envisioned how big their business would grow and the acclaim they would receive?
It's one of those things in life. The Lord moves in mysterious ways. It grew beyond their wildest dreams and expectations. When they first started out, they struggled. They stuck with it, and the business side of it just developed. When I go out in the parking lot and I look at car tags from all over the country, these are people who have made this their destination. That's what's amazing to me. We also have a little restaurant in Merigold that we opened in 1991; there was really a need for people coming from so far away to have lunch. It's about two blocks from the studio.
How did you and your brother, Jamie Smith, get involved in the business?
He's a potter in his own right. He came home (from Birmingham, Ala.) in 1998, and he realized pretty quickly that if he was going to focus on the creative side, he needed help with the business side. I returned in the summer of 1998. I had been practicing law in Athens, Ga.
Is there one piece that's the most popular?
We make such a variety of pieces, from serving pieces and dinnerware to decorative pieces, so it depends on the customer. The bunnies are very popular, especially at Easter. The folks on the Gulf Coast love the blue and jade pieces that we do, because it reminds them of the water. In the northern part of the state, it's the nutmeg-
colored pieces.
Is McCarty Pottery available anywhere besides the studio in Merigold?
We have several authorized dealers through the state of Mississippi. We do have an authorized dealer in Jackson—Inside Out in Highland Village (4500 Interstate 55 N., Suite 178, 601-366-5577).
McCarty's Pottery (101 Saint Mary St., 662-748-2293) is open Tuesday-Saturday 10 a.m.-4 p.m. Visit mccartyspottery.com.
More stories by this author
Support our reporting -- Follow the MFP.