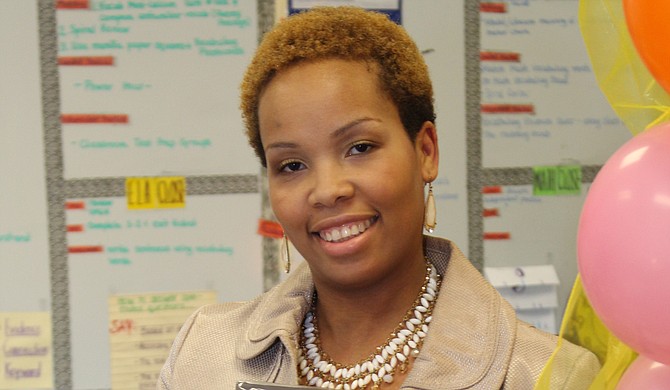 Jackson Public Schools recently named Johnson Elementary School teacher Erica Conner the 2015 Teacher of the Year. Superintendent Cedrick Gray and other JPS administrators presented Conner with the award during a surprise visit to her classroom in February.
Conner, who has been teaching English, math and social studies at Johnson Elementary for a year, tells her students not to say "I can't" in the classroom, but to instead say, "I'm still working on that." Conner says her mother, Catherine Lacey, taught her that message when she was growing up with spina bifida, which is a birth defect where the backbone and membranes don't completely close around the spinal cord.
"As a child, I had multiple surgeries and infections, and my movement, kidney function and blood pressure were hindered," Conner said. "Many people with spina bifida can't walk or have to be in special classes in school. Doctors would tell my mother that I wouldn't be able to have children or be able to walk properly, or that I would be less than what ... would be considered normal. But my mother never let me say 'I can't' or believe those things. She pushed me in life and with prayer to do my best. I got all As and Bs in school and worked hard to achieve (my goals). In regards to my health, I still have my bad days, ... but seeing my students every day always helps me through those."
A lifelong Jackson resident, Conner, 37, grew up in a family that put a high value on education. Her mother is a former reading teacher who taught for Canton Public Schools, and several of Conner's aunts and cousins also work as teachers.
"Coming from a family of educators really sets a bar," Conner said. "They all work hard at what they do, and when I went into this profession, I knew I had some big shoes to fill."
Conner attended Murrah High School and started at Belhaven College (now Belhaven University) in 1997, where she majored in education. She graduated in 2001 with a bachelor's degree in elementary education. In 2006, she earned a master's degree in the same subject, also at Belhaven. In 2010, Conner enrolled at Mississippi College to get a specialist degree in educational leadership. She has completed her coursework and is currently working on her thesis.
In addition to teaching at Johnson Elementary, Conner has 12 years of experience in teaching at other schools. She taught at Sykes Elementary—the same elementary school she attended as a child—from 2002 to 2006. She taught social studies at Canton High School from 2006 to 2008, and then taught English at Bailey Magnet High School, now Bailey Magnet Middle School, from 2008 to 2010.
Conner also works as an educational consultant for Educational Services for Hope, a consulting firm that provides schools with services such as teacher coaching.
In the classroom, Conner treats her students like family and teaches them to motivate each other to excel.
"When students function like family, there is no pressure to do better than others or compete with each other over grades, and there is instead a sense of helping your brothers and sisters," Conner said. "One of favorite things about being a teacher is watching my students work together and seeing how much they've grown at the end of the year. My students are wonderful because they let me challenge them and rise to meet the challenge, and that's really rewarding for me."
Conner has an 8-year-old daughter named Jaylah and a 2-year-old son named Ericson.
Support our reporting -- Follow the MFP.