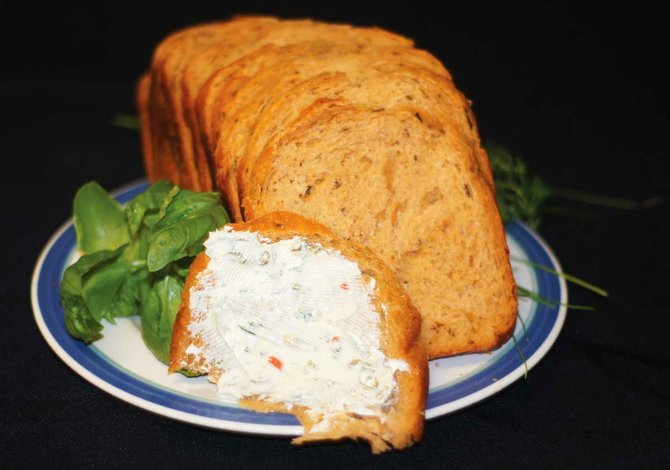 Growing herbs in Mississippi's hot, humid climate can be difficult, but it's a fragrantly rewarding side of gardening and well worth the effort. Some plants such as sage and thyme can be persnickety, whining about wet feet when not well-drained and dying out mysteriously after three to four years (a good run for these generally short-lived perennials, nonetheless.) Others such as basil, chives, mint, German chamomile and Spanish lavender, however, love living here and do well.
In the midst of harvest, you can store herbs for several days in the fridge if you prep well. Gather herbs early in the day when they are cool and fresh. Submerge in sinkfuls of cold water to wash well. When ready to store, wrap lightly in clean toweling or paper towels, leaving excess water on the leaves, and store in bags in the crisper. The moisture from the towels, confined by the bag, will keep the many varieties of herbs vibrant, green and flavorful for up to two weeks.
If you don't intend to cook with the herbs immediately, dry well and freeze immediately in freezer bags. I greatly prefer the color and flavor integrity of frozen herbs over dried ones and feel they maintain the essential oils much better, with less lost to the air. Basil tends to turn dark when frozen (although there is a school of belief that blanching beforehand helps keep the bright green better), but the flavor will still be fine. Chop herbs such as parsley, cilantro or chives before freezing, and you can easily break off portions as needed. Freeze fine and small-leaf herbs such as oregano, thyme, marjoram and rosemary directly on the stem; do not waste time stripping the leaves. As these herbs freeze, they become brittle and fall from the stems so stripping is unnecessary.
Now that you know some easy ways to enjoy the bounty of your aromatic harvest at any time, try these recipes for a different twist on herbs and cocktails.
Lemon Thymetini Bars
Lemon and traditional German or English thyme are intriguing complements in sweet recipes, but these bars are enhanced by the more delicate flavor of lemon thyme flecked throughout the shortbread crust. Orange liqueur and lemon zest create a rich and tangy bar cookie reminiscent of lemon pie. Powdered sugar is entirely optional, but does make for prettier presentation. Dust just before serving so that sugar doesn't melt on top.
Crust
2 cups all-purpose flour
½ cup confectioners' sugar
½ teaspoon salt
1 tablespoon lemon zest
2 tablespoons lemon thyme, chopped
1 cup butter, softened
Combine dry ingredients. Cut in softened butter with a pastry cutter, large fork or two knives until dough resembles pie crust dough. Press into 9-inch by 13-inch pan. Bake 15 to 20 minutes or until golden brown.
Filling
4 eggs
1-1/2 cups sugar
1/2 cup lemon juice
1/4 cup flour
1 tablespoon lemon zest
1 tablespoon Grand Marnier or triple sec
Beat together at least one minute until well combined. Pour mixture over the baked crust. Bake another 20 minutes or until lemon filling is set. When cooled sprinkle with confectioners' sugar to serve.
Bloody Mary Basil Bread
Easy to make in a bread machine, this loaf has a chewy crust and dense texture, similar to French bread. Bursting with flavor, it is versatile enough for a number of toppings. The tang of tomato and breath of basil pair well for a hearty handful meatloaf or meatball sandwich, but it also glows with simpler fillings: caprese-style with fresh mozzarella, tomato slices and fresh leaves of more sweet basil; grilled with provolone cheese; or cut small and served as a canape, spread with hummus, olive tapenade or pesto. Or, take some inspiration from Bloody Mary glass garnishes and try the Cocktail Garnish Cream below.
1-1/3 cups Bloody Mary mix
2 tablespoons olive oil
1/3 cup chopped fresh basil (1/3 cup packed leaves)
3/4 teaspoon salt
1-1/2 teaspoons sugar
3 tablespoons rye flour
4 cups bread flour
2-1/4 teaspoons dry yeast
Bring all ingredients to room temperature. Bloody Mary mix should be at least 80 degrees Fahrenheit.Add ingredients in order according to bread machine directions* and set for Basic or French bread cycle. Remove immediately from pan when done. Rub with a tablespoon of cold butter while hot, then allow to cool on a wire rack.
*Most manufacturers suggest liquid, fats, salt, then dry ingredients, with yeast going in last. Add salt to the liquid and keep away from the yeast for optimal rising.
Cocktail Garnish Cream
I hate to get a Bloody Mary that has a huge celery tree sticking out of the glass. First, I don't need celery to stir my drink; a straw will do just fine. Second, that's just watery, reedy, stringy stuff taking up valuable space in my glass that could be occupied by juice and alcohol. Third, I just don't particularly care for celery anyway, least of all in my drinks.
That's why I left it out of this recipe and put a couple of my favorite Bloody Mary garnishes into a tangy cream-cheese spread sprinkled with chives. Feel free to add a few capers, thinly sliced pickled asparagus or some horseradish to taste as well. Or minced celery, if you must.
8 ounces cream cheese, softened
2 teaspoons fresh chives, minced
3 tablespoons pimiento-stuffed green olives, sliced
3 tablespoons thinly sliced hot pickled green beans (such as Tabasco)
Gently combine all ingredients. Chill.
Support our reporting -- Follow the MFP.