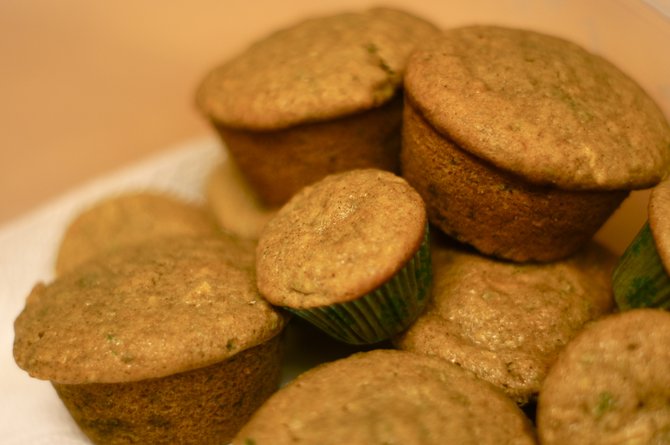 When I was a tot of 3 or 4, my momma would often find me in the garden amidst the cucumber plants, eating little baby cucumbers straight off the stem. I can still remember the sweet taste and gritty texture, and how I learned even at that young age to spit on it and wipe it on my shirt first for a less grainy bite.
My momma fussed, but did confess that she had a penchant at the same age for swiping my great-grandmother's sugar snap peas off the vine and was often caught purloining in the pea patch.
Today, I have dear friends whose identical twins love little finger-sized raw okra out of the garden. They pluck it from the prickly plants and nibble it down to its cap-like stem. I recently babysat them and, while collecting little okra caps behind them, I was inspired to give these unusual, sweet, kid-friendly okra recipes a shot. An excellent way to sneak in vegetables, these recipes are a great alternative to the boiled, fried or gumboed pods everyone knows. Like zucchini, apples, bananas, and other fruits and vegetables added to baked goods, okra lends texture while the juice adds healthy, binding moisture.
Okra Oatmeal Chocolate Chip Cookies
Once baked, the chunks of okra in this recipe mock the texture of raisins, making it a good recipe for those who grow the beautiful purple variety of okra. Only the green flecks throughout the cookies make it apparent that okra is the odd secret ingredient. I like to use a melon baller that works more easily with the sticky dough and makes uniform cookies.
1/2 cup (1 stick) unsalted butter, softened
1/2 cup brown sugar
1/4 cup granulated sugar
1 egg
1 cup flour
1/2 teaspoon baking powder
1/2 teaspoon baking soda
1/4 teaspoon salt
1 teaspoon cinnamon
1 cup oatmeal (not instant or 1 minute)
1 cup chocolate chips
1 cup raw okra processed in the food processor to coarse chunks
Preheat oven to 350 degrees. Cream together butter and sugars until fluffy. Add egg and mix until combined. Sift in flour, soda, powder, salt and cinnamon. Mix to combine. Stir in oatmeal, chocolate chips and okra. Drop 1/4-cup scoops onto a greased or lined baking sheet. Bake 16 minutes or until golden brown around the edges. Let cool before removing from cookie sheet. Makes 14 cookies.
Recipe courtesy Tiffany Braymen. Reprinted with permission from csaforthree.com/2011/08/09/okra-oatmeal-chocolate-chip-cookies/
Okra Apple Spice Muffins
This healthy recipe makes a great breakfast muffin. Feel free to puree okra, pre-portion and freeze to use later. It makes a texture similar to applesauce.
1½ cups organic white flour
1 cup organic whole-wheat flour
1 teaspoon baking powder
1 teaspoon baking soda
1/2 teaspoon cinnamon
1/2 teaspoon allspice
1/4 teaspoon nutmeg
1/4 teaspoon ground ginger
1/4 teaspoon salt
1/2 cup organic butter (plus a bit more for greasing muffin pan)
1/3 cup organic cane sugar
1 teaspoon vanilla
2 eggs from free-range hens
1/4 cup local honey
3 tablespoon maple syrup
1/2 cup organic milk
1/2 cup apple or pear juice
About 1 cup organic okra, processed
1 organic apple, cored and processed
Combine flours, baking powder, baking soda, spices and salt in one bowl; stir well and set aside. In another bowl, mix the butter, sugar and vanilla until fluffy. Mix in the eggs, then mix in the honey, syrup, milk and juice. Add wet ingredients to dry ingredients and stir until just combined. Pulverize the okra and apple in a food processor for about 15 seconds, then fold into batter.
Grease a muffin pan with butter and add batter to cups so that the batter is about level with the top of the pan. Bake in an oven preheated to 350 degrees for 25 minutes, or until a toothpick comes out clean.
Makes 12 muffins.
Reprinted with permission from rowdyradish.com/2011/09/best-way-to-cook-okra-okra-apple-spice.
Support our reporting -- Follow the MFP.