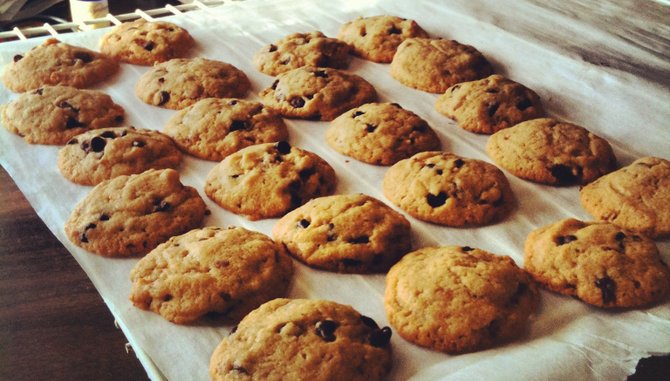 Bacon bourbon peanut butter chocolate chip cookies. You just stumbled over all that, didn't you? Still letting it all sink in? But no, you read it right. Bacon and bourbon. Peanut butter and chocolate chips. There's not even enough room in the cookie title to mention the English toffee bits, but yeah, I tossed those in too. Intrigued? You should be. This is a rich cookie that's not terribly sweet, but heavy with maple and toasted with smoky, salty bacon and a touch of buttery caramel flavor.
Not a week goes by that my friends at Fondren Cellars don't ask about these cookies, but with good reason. They did help taste-test and suggest the best bourbon, but we enjoyed every bite, I think. I love adventurous recipes and unexpected flavor combinations, so when I first saw a bacon cookie recipe, I was curious about trying it. Not long after that, someone brought bacon brownies to a party, and I decided maybe my idea wasn't so crazy after all. After testing an initial version I found online, I felt like I could do it better, making my own tweaks to ingredients, and incorporating a maple bourbon instead of traditional. The result is a richer, more complex cookie with a mysterious depth of flavor that surprises most people. The crisp bacon adds a texture reminiscent of toasted coconut or chopped nuts.
And let's face it. The folks at the liquor store are like your best friends, favorite bartender or trusted hair stylist: they make you feel better, know all your secrets, and they keep 'em too. It's only fair to treat 'em right and share some love, so I do that periodically with these cookies.
Although not as flavorful and distinct, you can substitute vanilla extract for the bourbon, but please, don't substitute turkey bacon for the 
real thing
Bacon Bourbon Peanut Butter 
Chocolate Chip Cookies
Ingredients
1-1/2 cups all-purpose flour
1/4 teaspoon baking soda
1/4 teaspoon baking powder
1/4 teaspoon salt
6-8 strips bacon*
3 tablespoons softened butter
2 tablespoons reserved bacon fat
1/2 cup natural peanut butter
1/2 cup granulated sugar
1/2 cup packed brown sugar
1 large egg
3 tablespoons maple bourbon (1 small bottle, or 1 tablespoon vanilla)
1 teaspoon vanilla
1/3 cup semisweet chocolate chips
1/3 cup English toffee bits
*6 slices if good bacon, 8 slices if it's the cheap stuff. This is also enough for any chewy ends you might want to snitch, just don't get carried away.
Preheat the oven to 350 degrees. Cook the bacon in a large skillet over medium heat until crisp, about four to six minutes per side. Transfer to a plate. Reserve two tablespoons of the drippings and set aside to cool. Crumble.
Combine the flour, baking soda, baking powder, cinnamon and salt in a large bowl. Mix well. Beat the butter and reserved bacon drippings in a large bowl with a mixer on until smooth, about one minute. Beat in the peanut butter until combined, about 1 minute. Beat in the granulated and light brown sugar until creamy, about four minutes, then add the egg and bourbon and beat until light and fluffy, about two more minutes. Add the flour mixture in two additions, scraping down the bowl as needed, until just combined. Stir in bacon, chocolate chips and toffee bits.
Drop small (one-inch) balls a couple inches apart on an ungreased cookie sheet. Bake for about 10 minutes for chewy cookies, 15 for crispier cookies. Let cookies cool two minutes on the baking sheets, then transfer to a rack to cool completely.
Store up to three days in an airtight container.
Support our reporting -- Follow the MFP.