Dear Birthday Cake,
I've loved you since the moment I first laid eyes on you. The sweet smells of you baking in the oven swirls in my memory. Oh, and how you looked that first time all dressed up in fluffy, sugary icing!
Every year that you've been in my life, you have truly delighted me. Birthdays would be just another day without you. Some people prefer their birthdays to be nothing special, but Birthday Cake, we both know better. They always want you.
As a child, my Mamaw would scold us for running around when you were baking. She hollered that we might make you fall. I wondered what that meant and didn't understand until several years later when I started asking questions about what made you so delicious. So, I watched her make you once. After creaming butter and sugar together, Mamaw added all those other seemingly plain ingredients that combine in all the right ways to make you what you are. She added—one by one—eggs, vanilla, milk, flour and those special powders that make you rise.
Birthday Cake, you'd be any number of beautiful golds or browns or pinks, depending on your flavor, but it is that special infusion of something to make you rise that creates your fluffy nature, that puffs you out. You're the belle of the ball,and after I quickly learned that, I quit running around in Mamaw's house so that you'd never fall around me.
Sometimes I have wondered about you, what else makes you so special. I mean, we can have cake every day of the week if we want. There are pound cakes and cupcakes and cake breads, but none of them match you. Everyone claims that you have your own taste, your own special brand of delicious. Is it in your buttercream, the flowers or dots or letters that adorn you, declaring happiness upon the recipient? Is it in the myriad of flavors we express with you? Is it just because it's a special day? Every day we could make yellow cakes and slather them with chocolate ganache, or go wild and create moist strawberry cakes that pair so well with the slight tartness of cream cheese icing. If it was just a Wednesday, would the cakes taste like you? I refuse to believe that they would. They're "every day" cakes. They are absolutely not you.
So I say, "Mazel tov, Birthday Cake!" for holding up so well after over 150 years of using you as a centerpiece of birthdays. Every day that passes, we grow more fond of you, with your colorful adornment and each layer we add. You come in multi-layered rounds, sheets of cake and sometimes even have multiple tiers. We have found ways to sculpt you into shapes that fool us into thinking you are a purse or a baseball, covering you in fondant until we almost forget what you are. In the end, we still have to cut into you, and the sweetly applied icing oozes onto our plates. You've come a long way, baby. You're still my favorite part of the year, and while we sometimes take you for granted and drown you in ice cream, you're still the best. Thank you, Birthday Cake, for making my taste buds delight and dance just at the sight of you.
Love, Neola
Chocolate Royal Raspberry Birthday Cake:
1 cup softened butter or margarine
3/4 cup sugar
1/4 cup brown sugar
1 teaspoon pure vanilla
2 large eggs, slightly beaten
3 tablespoon unsweetened cocoa
1/2 cup melted baking chocolate squares
1 cup buttermilk
1/2 teaspoon baking powder
1/4 teaspoon salt
1/2 teaspoon baking soda
2 1/4 cups flour
1 jar raspberry preserves
Preheat oven to 350 degrees and oil/spray two 8 or 9-inch round cake pans. In a large bowl mix cream, butter and sugar together. Add vanilla, eggs, cocoa and chocolate on low until blended. Add baking powder, soda,salt and 1 cup of flour. Mix and add half of buttermilk until blended, adding flour and milk alternately until all is in mixture. Pour evenly into two pans, baking for up to 20 minutes. Rotate after 10 minutes and check middles after 15 minutes.
After cakes are finished, let cool and turn out onto cooling racks. Plate one round and slather middle with raspberry preserves. Place second cooled round on top of preserves.
Icing:
1 cup shortening
1 cup butter or margarine
8 ounce cream cheese
1 teaspoon pure vanilla
1 box confectioner's sugar
1 pint fresh raspberries or (optional)
1 bag of chocolate chips (optional)
Beat shortening and butter together until creamy, adding small pieces of cream cheese to blend well. Add vanilla and slowly add sugar until well blended. Spread evenly on cake once the rounds have cooled. Use a flat metal spatula to make icing as smooth as possible. Garnish top of cake and edges at plate with fresh raspberries and/or chocolate chips. Consider also using seasonal blooms to adorn cake.
More like this story
More stories by this author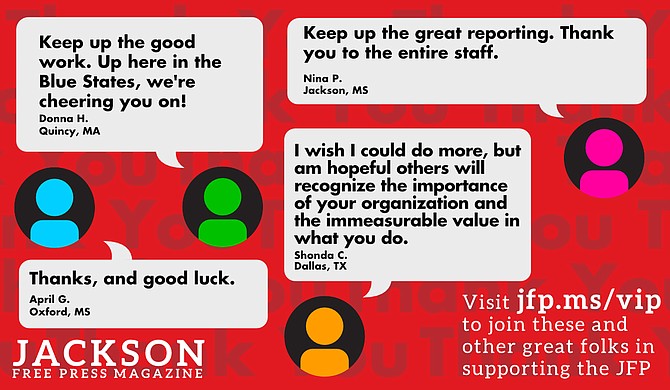 Thanks to all our new JFP VIPs!
COVID-19 has closed down the main sources of the JFP's revenue -- concerts, festivals, fundraisers, restaurants and bars. If everyone reading this article gives $5 or more, we should be able to continue publishing through the crisis. Please pay what you can to keep us reporting and publishing.