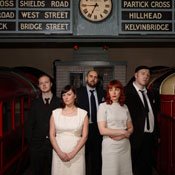 After years of drawing comparisons to fellow Scots and the sweet-pop band Belle and Sebastian, Camera Obscura is becoming the indie-pop band to watch. The quintet of talented musicians (Tracyanne Campbell, vocals & guitar; Gavin Dunbar, bass; Lee Thomson, drums; Kenny McKeeve, guitar & mandolin; and Carey Lander, piano & organ) evoke songs of sunshine and words to make your heart swell with occasional sweeping strings.
Camera Obscura's music has evolved with more and more influence from '60s pop and surf rock while channeling the demands of the indie-pop listening world. While the infusion of great instrumentation (layers of muted percussion with that jangle of tambourine and just the right amount of an earnest girl's song) may tickle you first, it is the lyrics that bring Camera Obscura together. Each song weaves its own story of heartache, heartbreak and gladness, disappointment and glee. Campbell's easy vocals inform us of relationships we have experienced, speaking with familiarity of matters of the heart.
Since releasing "My Maudlin Career" in April 2009, the band has toured the continents with a leg in the U.S. and Europe. Now returning to the United States, they will debut in Mississippi at The Lyric in Oxford on Dec. 2. Carey Lander, keyboard player for Camera Obscura, took time from her day off in the U.K. for a soft-spoken transatlantic phone call to talk about newfound successes and a growing fan base.
1. As of February, Camera Obscura is now with 4AD, an independent U.K. record label, instead of Elefant. 4AD is the same label as some well-respected indie acts like The Breeders and Bon Iver. How's it going on a new label?
It's been really great. The main difference is that we didn't have a U.K. label before. We've been on Merge (Records) in America, and we weren't looking to replace that. And now we're on 4AD, the former label of Cocteau Twins, and that's pretty exciting. We played South By Southwest at the 4AD showcase, and it's really great to be on this label with all these great bands. We played with Anni Rossi and have opened up for St. Vincent before, which was really cool.
2. "My Maudlin Career" was released in April and y'all have been touring since then. Any plans for more recording?
We don't have any specific plans or time lines for recording. We will be going to Australia, New Zealand and Japan after … the States. We think about it, but no specific plans for recording, just touring for now.
3. What's your creative process?
Tracyanne (Campbell, vocalist) is the main songwriter and really tends to write by herself. She'll work on chords and some melody and bring it all to band, and we try and arrange it as a group. It takes a while as a whole band to pull it all together. We always try and record a few spare songs, but it's amazing how much work it takes to get a whole album together. We try and do a lot and pick the best.
I like the title track of this album. It feels subtly different from what we've done before. It's good and loud live.
4. What do your fans ask for the most?
People want to hear "French Navy" and "Lloyd, I'm Ready To Be Heartbroken," mostly. People will shout for odd songs. There's a few songs we don't play live like "Careless Love" because the strings are such an important part of the song, and they're missing. It's nice to hear what other songs they want us to play, and we take that into consideration when we put together the set.
5. Is there any venue you love to play when you're on tour?
There are loads of great venues in the States. I like playing the 40 Watt Club in Athens (Ga.) and really all the smaller places. We do some really great intimate shows in the smaller European venues. It's nice to have the small space to play. Hopefully, it'll be like that on this tour. It's good to be coming back and seeing different places this time around, playing new shows.
6. When did you start making music?
I learned piano when I was a kid, but I never thought I'd be in a band. I tried learning guitar and then moved to Glasgow when I was 18. They (Camera Obscura) were looking for a keyboard player, and I was hired. It's all been kind of spontaneous.
7. What are you listening to currently?
Do you listen to anything together? We don't really listen to music together. We're a little bit unsociable like that on tour, put on the headphones and claim back some solitude. I've got a couple of Beach House records right now and the newest Grizzly Bear album, "Veckatimest."
More stories by this author
Support our reporting -- Follow the MFP.