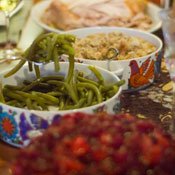 Want to cook Thanksgiving dinner yourself, but don't know where to start? Tired of the same old recipes? Here are some new options, from my kitchen to yours.
Garlic Almond Green Beans
1 pound green beans, washed and ends snipped
2 tablespoons sesame oil
4 chopped cloves of garlic
1/2 teaspoon salt Pepper to taste
1/2 cup slivered almonds
Preheat oven to 350 degrees. Toss green beans in oil, salt, pepper and chopped garlic and place in shallow baking dish with 1 tablespoon water. Cover with lid or tightly wrapped foil and bake for 10 minutes until beans soften slightly. Uncover dish and toss almonds with beans. Serve immediately.
Roasted Turkey
9-to-10 pound turkey (thawed, if frozen)
1 cup olive oil (or other mild oil)
2 small golden delicious apples, sliced
2 navel oranges, peeled
1 large Vidalia onion, chopped
3 large sweet potatoes, peeled and roughly cubed
3 rutabagas, peeled and roughly cubed
1/2 cup honey
1 thumb of ginger, grated
6 sprigs fresh rosemary
Salt and pepper to taste
1/2 cup melted butter
Other items:
thermometer
roasting pan
aluminum foil
Preheat oven to 325 degrees. Prepare roasting pan by lightly oiling sides and bottom. Remove bag of turkey pieces from inside of bird and any strings holding bird together. Stuff bird with apple slices, orange slices, chopped onion and rosemary sprigs. Thoroughly rub bird with oil, including between skin and meat. Drizzle honey over surface of bird. Salt and pepper all surfaces generously. Lay sweet potatoes and rutabagas evenly in pan and sprinkle grated ginger. Place bird on top of vegetables and cover with tin foil.
Cook bird at 325 degrees for two hours. Remove pan and foil; drizzle butter evenly and turn oven up to 500 degrees. Place bird back in oven uncovered and roast for 20 minutes until golden brown. Internal temperature of the bird should reach at least 161 degrees at its thickest parts. Bird should rest for 15 to 20 minutes before you attempt to carve it.
Sweet Potato Casserole
Casserole
3 large sweet potatoes, peeled and cubed
6 cups water
1 teaspoon salt
1/2 cup milk
1 large egg, beaten
1 tablespoon melted butter
1 teaspoon Mexican vanilla
1 tablespoon molasses
1 teaspoon cinnamon
1 teaspoon nutmeg
Candied pecan topping
1/2 cup flour
1 tablespoon butter/margarine
1/2 cup firmly packed brown sugar
1 cup pecan pieces
Preheat oven to 350 degrees. Boil sweet potatoes for 10 to 15 minutes until fork slides easily into pieces. Drain water and mash potatoes in pan, stirring in milk, butter, egg, vanilla, salt, molasses and spices until smooth. Empty mashed sweet potatoes into casserole dish, smoothing until evenly distributed.
Melt butter in skillet on medium heat until melted and begin slowly adding flour, stirring constantly. If mixture is too stiff, add a little water. Add sugar slowly until mixture browns and add pecans. While mixture is still warm, pour over potatoes until covered. Bake on 350 for 30 minutes or until topping has crusted and set.
More stories by this author
Support our reporting -- Follow the MFP.