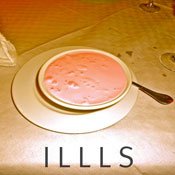 When the indie group Youth Lagoon performed at the Cats Purring Dude Ranch in Oxford, Miss., they needed an opening act. At the time, ILLLS was just a side project of 21-year-old Jim Barrett of Oxford, and 22-year-old Steven Ross of Jackson. Barrett was involved with the band Young Buffalo, and Ross had a solo project called Slow Talk.
They decided to open for Youth Lagoon.
Shortly after that performance last November (which was their first performance), the London-based emerging independent label called The Sounds of Sweet Nothing contacted the members of ILLLS. The label heard about the band through some folks at Fat Possum Records and wanted to release ILLLS' first EP.
"It worked out great. It was unexpected but went really well," Ross says.
The EP, "Dark Paradise," was released Monday, June 18. The vinyl will have six songs with a bonus download of two songs, "Morocco" and "Kid Dream."
Although most people will download the full album digitally, the vinyl is for those that want to own something physical or be able to display the artwork.
The duo started recording songs for the EP a couple of years ago, Ross says, soon after they met through mutual friends in Oxford. They've been working on it on and off since then, but got serious about finishing the record in October.
Since signing with The Sounds of Sweet Nothing, ILLLS has been featured in several online magazines and blogs, some of which falsely claim that ILLLS is a British band.
"The majority of blogs and magazines that post about us have been really positive and seem to be really into (our music)," Ross says. Some people have referred to them as "the mysterious duo" because they seem to have taken the scene by surprise.
Ross wrote and sings lead on tracks 1, 3 and 5 of "Dark Paradise," and Barrett wrote and sings the other three. They both play various instruments on all of the songs.
The name of the album comes from a line in Kurt Russell's movie, "Escape from L.A.," but it also hints at the nature of the songs. "The whole thing is trying to do pop music with a darker filter on it," Ross says. "It's not just feel-good pop music."
The music might be happy-sounding, he says, but the lyrics have a dim undertone to them. The b-side digital downloads, however, are lighter, more straightforward pop songs that don't seem to fit the mood of the album.
Barrett and Ross say two songs, "Teeth" and "Bathroom Floor," are most representational of their music. Both have elements of garage rock and noise pop.
The video for "Teeth," released in May, is indicative of the band's eclectic sound. The duo, with the help of some friends, shot the video at a local grocery store and at Jane Rule Burdine's art storage space.
"We went to a local grocery store here in Oxford and we bought all the grossest food we could find," Ross says about the video's production. "Then we cooked it all together—it made this pink goop similar to the album artwork—and we ate it and kind of threw up everywhere."
It's not as gross as it sounds. While Ross says that he and Barrett were gagging and vomiting for almost 30 minutes, the video focuses a bit more on them walking around the grocery store, creating the goop and performing. The album artwork isn't what they created, though. It's actually a dessert that one of them had while in Spain.
ILLLS is working on putting together a tour up the East Coast and in the U.K., where the album will primarily be released.
Hear more of ILLLS' music and pre-order "Dark Paradise" at http://illls.bandcamp.com or through their Facebook page, http://illls.facebook.com.
Support our reporting -- Follow the MFP.