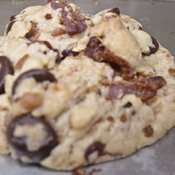 Over the past few years, I have become obsessed with the idea of pairing sweet and savory flavors in odd ways, pushing my taste buds to new limits. Often, I discover that my cooking experiments are not the best ideas, but sometimes, something great comes through. Those are the times I realize that I'm no culinary genius and that someone has, in fact, done it before. Case in point is the trend of pairing chocolate with bacon. Yes, I said bacon.
For years now, folks have been able to purchase salted chocolates at specialty food stores and chocolateries. More recently Vosges, a chocolate company, started producing chocolate bars that contain bits of real bacon in them. It seems that the salty, smoky flavors of bacon pairs well with chocolate. Think about it. Have you ever made pancakes and eaten pieces of it with your bacon or sausage and included drips of the syrup you drizzled on? The sensation of savory meeting sweet can be rewarding to your taste buds, but only when done right.
A fairly recent trend, topping chocolate chip cookies with maple glaze and bacon has taken the Pacific Northwest by storm, inciting more and more discussion of what exactly bacon can do to enhance your dining experiences. I am a fan of the salt caramels and when in the mood, am delighted to try small pieces of the salted chocolates, but I was truly skeptical when it came to sharing my cookie palate with pork products. I decided to jump on the bandwagon and try out a few recipes, and holy mother of pearl: Bacon is the best thing to ever happen to chocolate chip cookies. The maple glaze is necessary to tie the flavors together, but once assembled, it is a snack you won't soon forget. Granted, bacon gets a bad rap for being high in fat, and while I'd like to say that you could easily substitute turkey bacon or even the veggie bacon, it just does not taste the same as the real stuff. For just one snack, make the exception.
The secret to these cookies comes in a few key ingredients. I always make my chocolate chip cookies with molasses and Mexican vanilla. Those are my two secrets to a great cookie. With this particular recipe, the maple glaze is also necessary, but you can make it a couple of different ways and still make the point.
The final key to the whole package is the bacon. I recently tried applewood smoked bacon, and the smokiness really does complement the sweetness of the chocolate and the maple. You must cook the bacon until it is crispy. Even if you typically like your bacon chewy, you must fry or bake it harder than normal. Some people tend to chop the bacon and mix it into the cookie dough and then add more to the tops after they have baked, but I prefer to just use the bacon as a last flourish. I'm sure a lot of you are still scratching your heads over this whole suggestion, but I insist you try it.
Chocolate Chip and Bacon Cookies
Cookies:
3/4 cup butter (or use vegetable shortening or a mix of the two. I use the Smart Balance 50/50 Baking Sticks)
3/4 cup sugar
1/2 cup light brown sugar
1/4 cup Grandma's Molasses
2 teaspoons Mexican vanilla extract
2 eggs
1 teaspoon baking soda
1 teaspoon salt
2 1/x cups all-purpose flour (if you use high-gluten flour, it can add to the chewiness of the cookie)
1 cup milk chocolate chips
1 cup semi-sweet chocolate chips
Glaze:
1 cup powdered sugar
1 tablespoon cold water
1 teaspoon maple extract
1 package bacon, any cut/cure (to garnish)
Preheat oven to 350 degrees and prepare cookie sheet with non-stick baking spray, parchment paper or other protective sheet. Cream sugars, molasses and butter together, and then add vanilla and eggs until well blended. Combine dry ingredients in a separate bowl and add slowly while continuing to mix. Once dough has formed, add chips. Cover bowl and chill for a couple of hours or overnight. Using an ice cream scoop, spoon out dough and roll in your hands. Once balled up, flatten on cookie sheet, leaving 2 to 3 inches between cookies. Bake for 8 to 10 minutes until golden brown, but still soft.
Fry or bake bacon until crispy, making sure to pat all grease out before chopping.
While cookies cool, mix powdered sugar, water and maple extract together in small bowl. Once cookies are cool, spoon a small amount on each cookie and sprinkle with bacon pieces.
Previous Comments
ID

147333

Comment

Am I really reading this? Chocolate Chip and Bacon Cookies?? LMAO! I don't think I'm that brave. I did however recently purchase some BaconSalt (Google it). Yes, bacon flavored salt. It however doesn't taste like bacon, to me anyway. Just tastes like hickory smoke flavoring.

Author

LambdaRisen

Date

2009-05-13T22:45:39-06:00
ID

147341

Comment

I love Bacon Salt- next Thanksgiving try it on those leftover turkey sandwiches- just some fresh white bread, turkey, Duke's mayo, and Bacon Salt. You can't eat just one!

Author

Rico

Date

2009-05-14T10:17:38-06:00
ID

147343

Comment

Speaking of mayo, the makers of BaconSalt also have another product called Baconnaise. Yes, bacon flavored mayonnaise. I haven't seen it around the area though. It was hard finding the BaconSalt too. I went to several of the stores their web site said carries it and only found it at 1 of them, the Kroger in Crossgates/Brandon.

Author

LambdaRisen

Date

2009-05-14T10:28:54-06:00
ID

147344

Comment

I love Duke's mayo!! Y'all are making me want a BLT. And I do plan to try the bacon-chocolate chip cookies one of these days too.

Author

andi

Date

2009-05-14T10:28:57-06:00
ID

147347

Comment

Hold the mayo for me, I only do Miracle Whip. It makes a BLT yummy times infinity. It's also an awesome addition (just a dollop) to Velveeta mac & cheese, along with some bacon!

Author

LambdaRisen

Date

2009-05-14T11:12:17-06:00
ID

147349

Comment

The maple-bacon chocolate chip cookies sound heavenly. Neola, you are a culinary goddess! My standard-issue lunch, these days, is two tuna sandwiches (Chicken of the Sea, spring water) on wheat with Kraft lowfat olive oil mayo mixed with Tabasco. (Kraft sells Tabasco mayo and I hear it's quite good too, but it's 11g fat per serving vs. 4g fat per serving and besides, I like to control the amount of Tabasco I'm mixing in there.)

Author

Tom Head

Date

2009-05-14T11:21:08-06:00
More like this story
More stories by this author