When I toured through the Delta three years ago with the acclaimed filmmaking brothers, Joel and Ethan Coen, I don't remember listening to music. It's possible we even drove in silence as they looked at locations to shoot their film, "O Brother, Where Art Thou?." If we listened to anything, it certainly wasn't bluegrass or roots or any songs that T. Bone Burnett would later put on the soundtrack, which quickly became the hottest "new" music in the U.S.
Before "O Bro," I assumed bluegrass was just country music with extra twang and knee slappin' made for old couples in big cowboy hats and frilly dresses. I am, after all, a 29-year-old, half-Indian, half-Filipino filmmaker with the White Stripes lodged in my CD player. What did I know? But thanks to the movie, I have been enlightened. Like many others who adore the Grammy-winning soundtrack, I've fallen in love with bluegrass.
I've started a collection of American string-band music, and recently I took the three-hour northerly drive to Southaven for the "Down From the Mountain" concert to hear the all-stars of bluegrass: Alison Kraus & Union Station, The Del McCoury Band, Ricky Skaggs, Patty Loveless, Emmylou Harris, Ralph Stanley and others. The first song was, indeed, on the twangy side, but by the end of the concert I was up on my feet singing aloud and playfully holding hands with the guy next to me who came solo. I never did get his name. (And, yes, we left separately.)
I went to Hal & Mal's (200 S. Commerce St, 948-0888.) to hear Jackson's own bluegrass group, the Vernon Brothers, play what some people call the "white man's blues." They perform there every other Wednesday; indeed, they christened the bar's grand opening a million years ago. I walked in to a full house at 8:45 p.m. with my friend Philip, a native South Alabamian well versed in the bluegrass tradition.
Not unlike the Southaven audience, this one was a mixed bunch, ages 4 to 64. Roots music, in particular, has really taken off with the hipster college crowd. That night, little girls danced in the crescent-shaped booths, while the more cool sang along or tapped their feet. The music was energetic and infectious, completely distracting from conversation. Philip — who usually sports a Bjork or an Apple Computer T-shirt with his long hair pulled back in a ponytail and smiles only when absolutely necessary — said the music makes him feel, well, "happy." It reminds him of his childhood, riding in his Dad's pickup listening to "30 Years of Bluegrass" on 8-track. "It makes me want to run through a cornfield naked. Like a moonshiner runnin' from the law," he said, almost gleefully. It didn't have quite the same effect on me, but I got his point.
After 22 years of playing together, the Vernon Brothers have never produced an album, and they don't actually have any Vernons in the group. Sweet-talkin' mandolin player Hal Jeanes — "Freeman Vernon" — created the name. He laid their names out side by side and pulled out common letters to spell out "Vernon" to form their musical family. Jeanes is the heart and soul of the group.
The clan consists of his red-headed songstress wife, Connie Jeanes ("Connie Bob") on upright bass, Tim Avalon ("Vance Vernon") on fiddle (master of all string instruments), banjo extraordinaire Dennis Phillips ("Buzz"), and Bill Ellison ("Fencepost, Jr.") on guitar. Ellison also hosts PRM's "Grassroots" (Saturdays, 8 p.m.) on 91.3 FM. Several members play in other local bands of various genres: D'Lo Trio, Bound Street and The Rounders, to name a few.
Between sets, the Vernons graciously gave me a bluegrass history lesson, starting with its origin around 1939 in Kentucky by Bill Monroe and his band, the Blue Grass Boys. The late Monroe once described bluegrass this way: "It's got a hard drive to it. It's Scotch bagpipes and old-time fiddling. It's blues and jazz, and it has a high lonesome sound. It's plain music that tells a story. It's played from my heart to your heart, and it will touch you."
Bluegrass is the "jazz of country music," according to Jeanes. "It has a lot of room for improvisation" for each performer to take solo "rides," he says. Bluegrass is definitely multicultural: a fusion of African American blues and Appalachian music, which comes from the Scottish, Irish and English traditions. Jeanes finds it to be a much more serious musical form than many people realize, emphasizing traditional songs that still sound pretty much as they did in the 1940s.
The traditional bluegrass line-up includes a bass, guitar, banjo and mandolin. Country music enthusiast Nicholas Dawidoff writes in his book "In the Country of Country": "You might well find a banjo in a country band, but if someone is using a piano, drums, or an electric guitar, he isn't playing bluegrass."
Covering songs like Ralph Stanley's "Man of Constant Sorrow" and "In the Jailhouse Now" by country legend Jimmie Rodgers, the Vernon Brothers shared the limelight, taking turns with vocals and solos. Rarely looking away from their instruments, they played with masterful skill and artistry, but somehow remained light-hearted and carefree, enjoying every moment. The audience seemed to absorb their energy, with applause and cheers growing as the evening went on.
Ashleigh Noble, affectionately known as "Piglet Vernon" and perhaps the Vernons' biggest fan, received a rendition of "Happy Birthday" from the band during the show. "I had my 21st birthday with them. I'm 25 tonight. Does that say anything?" she asks, adding, "I've told Connie Bob, 'The angels in heaven smile when you sing.'" They may just dance a bit, too.
Nina Parikh is a filmmaker and writer. She works with the Mississippi Film Office.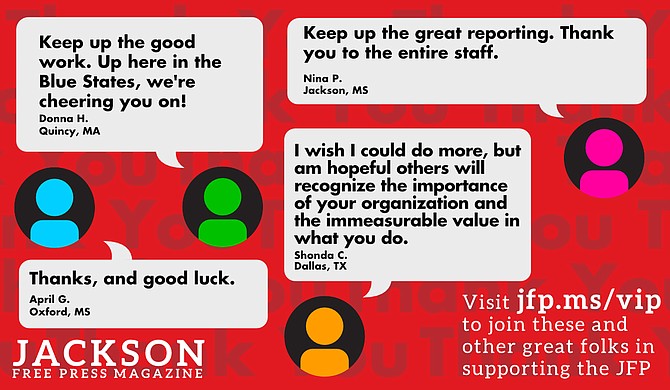 Thanks to all our new JFP VIPs!
COVID-19 has closed down the main sources of the JFP's revenue -- concerts, festivals, fundraisers, restaurants and bars. If everyone reading this article gives $5 or more, we should be able to continue publishing through the crisis. Please pay what you can to keep us reporting and publishing.