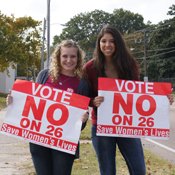 In this typically anti-abortion state, a recent poll suggests that the fate of the "Personhood Amendment" might be too close to call. Public Policy Polling found that 45 percent of voters support the amendment, 44 percent oppose it, and 11 percent are undecided.
A slightly higher percentage of undecided voters belong to demographic groups that tend to oppose the initiative, Public Policy wrote, suggesting that it might not pass. To pass, an initiative must receive a majority of the total votes cast for that particular initiative and at least 40 percent of all the votes cast in the election.
Initiative 26, which would amend the state Constitution to declare that fertilized eggs are people, looked like a sure win a few months ago, and politicians courting Mississippi's many "values voters" rushed to endorse it.
Lt. Gov. Phil Bryant, the Republican candidate for governor, is the co-chairman of the Yes on 26 campaign, and he has been vocal in his support of the initiative. As opponents of the initiative mobilized and the measure's success seemed less certain, Salon reported that Bryant compared abortion to the Holocaust, calling the initiative "a battle of good or evil" and equating the failure of the initiative with a victory for Satan.
Although the initiative does not include exceptions for abortions in cases of rape, Bryant said he could not imagine a judge prosecuting a rape victim for getting an abortion, Salon reported.
Public Policy Polling gave Bryant a 14-point lead on his Democratic opponent, Hattiesburg Mayor Johnny DuPree. DuPree has also said he will vote for the initiative, despite some concerns that it does not address abortions in cases where the mother's life or health is in danger.
The split on Personhood in Mississippi may be the latest symptom of a larger split within the pro-life movement. Anti-abortion activists tend to disagree on which legal tactics they should use to outlaw abortion, with some, like Personhood USA, favoring outright challenges to Roe v. Wade. Others favor an incremental approach to place more restrictions on abortion, fearing that asking the courts to uphold a broad ban on abortion would lead to another Supreme Court decision that solidifies abortion rights.
The Wall Street Journal reported yesterday that James Bopp Jr., legal counsel for the National Right to Life Committee, opposes personhood initiatives because a Supreme Court ruling against them would be "the death knell to all other regulations on abortion."
While Americans seem to be evenly split on the abortion issue, with 47 percent describing themselves as pro-choice and 47 percent describing themselves as pro-life, Gallup found that only 20 percent of Americans believe abortion should be illegal in all circumstances, and only 26 percent believe it should be legal under any circumstances. The majority--51 percent--believe abortion should be legal only under certain circumstances.
Gov. Haley Barbour turned heads last week by saying on two cable news shows that he had concerns about the initiative because it did not address ectopic pregnancies and because he felt the language was ambiguous. Proponents of the initiative dug into Barbour's campaign finance reports to find that he has taken contributions from Pfizer, which makes Misoprostol tablets, which are used to cause an abortion in early pregnancy. Local supporters of the initiative held a press to clear up Barbour's confusion. Opponents of the measure started making robocalls suggesting the governor opposed the initiative.
Barbour said he voted in favor of the initiative by absentee ballot on Thursday.
JFP reporters will be tweeting and blogging from watch parties for and against Initiative 26 this evening. Assistant editor Valerie Wells will be with the No on 26 campaign at the Ole Tavern on George Street. Follow her on Twitter @sehoy13. JFP reporter Elizabeth Waibel will be with the Yes on 26 campaign at AJ's on the Lake in Ridgeland; follow her @lizwaibel.
Also check jacksonfreepress.com or @jfppolitics and @jxnfreepress for more real-time updates and election results.
Read more JFP coverage of the Personhood debate:
Personhood: A Pandora's Box
Inside Yes on 26
Advocates Gear up for Personhood Battle
Previous Comments
ID

165339

Comment

"Although the initiative does not include exceptions for abortions in cases of rape, Bryant said he could not imagine a judge prosecuting a rape victim for getting an abortion, Salon reported." ?? Even though they would have to travel out of state to get one... I can't believe this person could be our next Governor. Not if I can help it... but still... Vote No on 26 and 27, Yes on 31. :)

Author

BobbyKearan

Date

2011-11-08T13:35:59-06:00
More stories by this author
Support our reporting -- Follow the MFP.