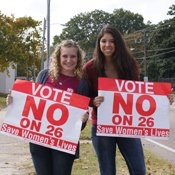 Millsaps College students Destiny Everitte, left, and Sara Del Castillo show their opposition to Initiative 26 outside campus this morning.
Stories this photo appears in:
Personhood
In this typically anti-abortion state, a recent poll suggests that the fate of the "Personhood Amendment" might be too close to call. Public Policy Polling found that 45 percent of ...