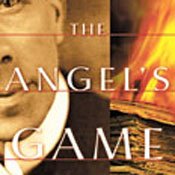 Smoke clears to reveal Barcelona, Spain, in the early 1900s, the city's heart pulsing with unrest under the fiery shadows of a black-and-red cobwebbed sky. Or at least this is the pulpy-fictitious mood Carlos Ruiz Zafón sets, by repeatedly conjuring those colors and ominous symbolism, in "The Angel's Game" (Anchor Books, 2009; paperback 2010, $15.95). It makes for a savory read.
The story is about a writer, and Zafón refers often to other novels, including Dickens' classic "Great Expectations" and the idea of an idyllic life. Protagonist David Martín tells us his harrowing story, recalling his love of writing from childhood (and later, a deep love for his Underwood typewriter).
"At school I learned to write long before the other children. Where my school friends saw notches of ink on incomprehensible pages, I saw light, streets, and people," Martin says.
Martín leads us through his development from an early age under the broken wing of his abusive and bibliophobic father, a cleaning man in the local newspaper, The Voice of Industry, to his entrance into the world of writing through that same newspaper after his father dies, to his advancement into penning crime novels.
"The Angel's Game" is an intricate mystery involving violence and murder, lust for notoriety, money and (fear not, romance-lovers) some major amorous agonizing, too. Zafón's elegant, prosaic style walks us in and around Barcelona, from seedy alley visits to mansions, and everything in between, including newspaper offices and police stations. It also shows us the inner depths of a mentally crumbling writer who, though heartbroken, continues to pine for his single love fixation, ringing slightly of a Gabriel García Marquez character, and on the brink of death, realizes the life of a novelist is not exactly how he envisioned it.
Then, at a calamitous crossroad, Martín receives an irresistible offer: "Dear David, life is filled with great expectations. When you are ready to make yours come true, get in touch with me. I'll be waiting. Your friend and reader, A.C."
Andreas Corelli may be the devil in disguise. He is always clad in a fine black suit with a red silk tie and a silver angel pinned to his lapel. This stranger slowly, cryptically courts Martín with hand-written, wax-sealed letters until finally, Martín accepts. He agrees to anonymously author a commissioned book, thanks to a large sum of money, but discovers that he does not agree with the tenets of the book.
Corelli reminds Martín, "I pay you very well, which is the only real form of flattery in this whorish world."
As Martín begins to unravel clues about his new publisher and the hidden past of a book, "Lux Aeterna," that he picked up in a place called Cemetery of Forgotten Books, he also begins to disintegrate. Eventually, he can no longer look at himself in the mirror.
Martín's saving grace—a place where his humanity remains intact—is in his relationship with his assistant, a young aspiring writer named Isabella. It's a relationship that he was initially reluctant to engage in. His persevering admiration for a local bookseller named Sempere, his relationship with his former mentor, Senor Vidal (though his regard for Vidal wanes over the course of the book), and a few other good deeds along his journey, possibly keep his heart from turning wholly black. This was a nice touch, as it revealed not just a man struggling with deep scars of loss and the turmoil of confusion his circumstances caused, but of the prevailing truth that even the darkest, dualistic spirit can still flicker with luminescence.
"The Angel's Game" darkly underscores the vanity of a writer, professional writing's entanglement with success, jealousy of peers, money and how seductive—yet, sometimes perilous—a bankrolled book deal can be. Yet Martín can't part with his writing despite his inner torment.
"There was nothing in those pages that deserved anything better than to be burned, and yet they were still flesh of my flesh and I couldn't find the courage to destroy them," he says.
"The Angel's Game" is engaging, regardless of how dark, dreary or dreadful the twisty path. Zafón calls into question identity, what it means to survive and/or demise as a writer, and the "soul" of book, as well as religion and morality. It is a well-woven tale of doom.
At the end, I was left with the thought that the book was all one long nightmare of the life of a fiction writer, overwrought with haunting memories of torched love or success never attained.
I thought, too, that Corelli may not actually be the devil—as "The Angel's Way" alludes—but that it was the writer, Martín, the whole time, and perhaps, a little bit of Zafón himself.
More stories by this author
Support our reporting -- Become a JFP VIP.
The news business has changed dramatically in the past year, and we need your help more than ever to keep bringing you important stories about Jackson and the Metro. Become a JFP VIP with an annual membership or you can Sign up as a monthly supporter. Thanks for anything you can do to empower our journalism!