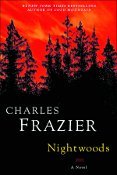 Any discussion of Charles Frazier or his books is inevitably prefaced with a comment such as "You know—the guy who wrote 'Cold Mountain.'" And while the novel has certainly garnered much acclaim, "Cold Mountain" has also doomed Frazier's future work to a lifetime of disappointed comparisons, sounding something like, "Well, it wasn't as good as 'Cold Mountain.'"
Particularly for a talented writer like Frazier, this is bound to be frustrating. After all, the great artists and musicians and writers are not those who reproduce the same work ad nauseam but those who constantly evolve and never settle in one place.
"Nightwoods" (Random House, 2011, $26.00) is Frazier's third novel, and it breaks from his past works in two ways. First, his protagonist is a woman. Frazier, who could be categorized as a rugged man's writer, introduces Luce, a fiercely independent tenant of an abandoned lodge in North Carolina's Appalachian Mountains. Second, Frazier, who in his past two books has told stories about grand odysseys, centers his narrative around a single town in "Nightwoods."
In the story, Luce is a seemingly anti-Frazier hero. She is apparently comfortable in her place and time—with little ambition to press beyond her unnamed mountain town, where she is responsible for taking care of the lodge that sits unused on a lake several miles away from the town, or anyone else.
Comparisons to Stephen King's "The Shining" seem fair, particularly when Frazier writes, "Yet the fading spirit world touched her imagination pretty strong when she was awake at three in the morning, alone in the big place." My fears were compounded when a violent man named Bud, Luce's former brother-in-law, shows up in the town to find Luce.
Early in the book, we learn that Bud murdered Luce's sister, Lily, the mother of two children by her first husband. Bud's a shortsighted, pleasure-seeking deviant ("villain" just doesn't seem like the right word). He murders Lily after she hides a large sum of money from him that he has stolen.
Luce has inherited Lily's two children—Frank and Dolores—from the state. They are mute and bizarre twins who, like mischievous mimes, set fire to and try to destroy everything in their sights for most of the story. Indeed, the book opens with the following lines: "Luce's new stranger children were small and beautiful and violent. She learned early that it wasn't smart to leave them unattended in the yard with the chickens. Later she'd find feathers, a scaled yellow foot with its toes clenched."
Luce's child-rearing problems become more complicated when Bud, found not guilty in court, sets out to find the children whom he believes have his lost money.
From there, the story becomes a plodding cat-and-mouse game, as Frazier alternates chapters between describing Luce's struggles with the children and Bud's preparations for reparation. The pace is deliberate and slow—almost to a fault. I found myself longing for adventure, only to have it denied.
In fact, Frazier seems to let that same tension—between staying or going—come out in Luce's conversations with Stubblefield, her eventual love interest.
While Luce shows interest in the world beyond her mountain, she knows she cannot leave town. Frazier writes: "Until recently, it had been theoretically possible to throw clothes in a bag and get in the car and go. By tomorrow, be sitting on the beach, at sunset drinking a beer. In the new reality, though, the children."
And here lies both the greatest strength and weakness of "Nightwoods." In his past two novels, Frazier's characters seemingly had no ties—or if they did, the ties were the reason to get up and go somewhere. And, as is the case with journeys, surprises constantly lurked around every bend in the trail; however, here, in "Nightwoods," the story is of the familiar, of a single place and of the ties that do bind. It's a story where change comes slow and conflict even slower. Yet, the two are magnified because of the care and time taken to get there.
"Nightwoods" may not be "Cold Mountain," but I don't think it's trying to be. Frazier, instead, writes of the Appalachian Mountains as Faulkner did about Mississippi and Joyce about Dublin. They are his.
As Frazier writes: "These mountains are no wilderness. They have been lived in for thousands of years." And then later, "Everywhere Luce looks, the ground lies webbed with lines of passage, a maze for the children to get lost inside and never come out."
"Nightwoods" is not a novel for those looking to the horizon but one for those who find their greatest adventures at home.
Charles Frazier will sign and read excerpts from "Nightwoods" starting at 5 p.m Oct. 11 at Lemuria Books (202 Banner Hall, 4465 Interstate 55 N., 601-366-7619).
More like this story
More stories by this author