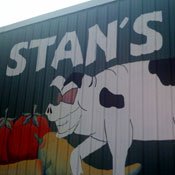 When Parlor Market opens later this summer, diners ordering any cured pork dishes will enjoy the handiwork of Frank Coppola, the current owner of Stan's Country Store in Batesville, Miss.
What makes Stan's different is its commitment to natural methods of raising hogs: Stan Holcombe, the original owner of Stan's Country Store who still supplies meats to the store, raises his cattle and hogs free range. "(Stan) raises the corn they eat—no growth hormones, no steroids—(and uses) antibiotics only when necessary," Coppola says. He adds that Stan weans the hogs naturally and does not dock their tails, a common practice in cramped hog factories where breeders cut off the hogs' tails to prevent other hogs from chewing them off.
Parlor Market owner and chef Craig Noone says he made a point to drive up to Batesville. "I told (Coppola) I was going to open up a restaurant and that I would like to use his cured meats so I could have a local charcuterie place," Noone recalls, adding that charcuterie "is the French word for making cured sausages and meats."
Coppola said a lot of grocery store meat is brined and injected with saline solutions to preserve the meat, while increasing the weight of the cut. "It's an entirely different flavor," Coppola says of Stan's cured meats. "It actually is a flavor as opposed to what you get out of a box store. It's clean."
With of Parlor Market opening just weeks away, Jacksonians can try some of Stan's pork.
"Frank and I just talked about ordering some of his stuff until I master the process," explains Noone, who says Coppola is going to teach him how to do it.
"He's not worried about me always buying from him. He actually wants to teach me how to do it myself, that way probably in the next year at Parlor Market we'll have all house-made charcuterie."
Either way, Mississippi charcuterie is here to stay.
Stan's Country Store (24441 Highway 6 E., Batesville) is open Monday to Saturday, 10 a.m. to 7 p.m.
More like this story
More stories by this author