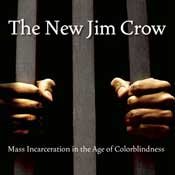 Most dystopian novels are cautionary tales. Michelle Alexander's "The New Jim Crow: Mass Incarceration in the Age of Colorblindness" (The New Press, 2010, $27.95) reads like a dystopian novel, but it's too late for caution. This dystopia is real, and it's a damning portrait of a criminal justice system that rivals the institution of slavery in scope and depravity—and may be just as difficult to address.
Our prison system is so massive that it has become, in its own obscene way, a contemporary Wonder of the World. No nation in human history has imprisoned as many people: 2.3 million, or one-fourth of the total world prison population. Add in the number of people on probation or parole, and the number spikes to approximately 7.3 million, according to the most recent (2008) figures from the U.S. Bureau of Justice Statistics. If our system of incarceration were a country, it would be larger than Denmark, Libya, or Singapore.
This would be bad enough if prisons had a net positive effect on our culture—but our criminal-justice system, which is oriented more toward punishment than rehabilitation, seems designed to prevent incarcerated adults from living healthy lives after they're released. Felons can be legally discriminated against by employers, prohibited from voting and blocked from public housing projects. The end result, for the 5.4 million disenfranchised ex-felons living in the United States, is a second-class citizenship status very reminiscent of Jim Crow—especially in a system where the majority of incarcerated individuals are black and Latino men.
Because buildings tend to last longer than other relics of old civilizations, they tend to define how we see history. When we think of ancient Egypt, we think of the Pyramids. When we think of ancient Greece, we think of the temples. When we think of ancient Rome, we think of the roads and aqueducts. And when archaeologists look back on the United States, it's likely that they'll think of prisons—and with the United States' long history of institutional racism, it is likely that prisons will be seen as racial institutions. The United States of 2010 may be remembered primarily as a country that needlessly and fruitlessly imprisoned millions of men of color in order to appease the fears of whites.
Articulating the institutional flaws of our criminal justice system is essential to correcting them, and Alexander does this well, but the book is less useful as a guide on how to address these injustices. Her frustration with the moderate policies of the NAACP and other traditional civil rights organizations is both clear and clearly justified, but she has no specific call to action, no itemized legislative agenda and very few usable talking points.
What her book provides, instead, is a fair and honest account of what U.S. criminal justice policy is doing to its victims. Whether she's writing about the mother who was sentenced to a five-year mandatory minimum sentence for cocaine possession because her son hid crack in the attic, the absurdity of releasing a struggling ex-felon into the general population with no employment prospects and no access to public housing, or the political benefits conservative politicians reap as a result of felony voter disenfranchisement, she tells this story in a painfully clear way.
"The New Jim Crow" is, in effect, the latest volume in a multi-volume history of American injustice. This history began with the publication of Bartolomé de las Casas' "Brevísima relación de la destrucción de las Indias" (1552), which chronicled Spanish-American genocide, and has been expanded over the centuries with slave narratives, civil rights manifestoes, and other accounts of atrocities that many contemporary policymakers would prefer to forget, so as to better repeat them. This is what America looks like in the confession booth.
But there is a tone of sadness, of resignation, in the book—the sense that Alexander knows that these horrible things are happening, and that any attempt to correct them within the near future is likely to be futile. Nowhere is this clearer than in her preface, which begins with the phrase "[T]his book is not for everyone" and proceeds to describe an intended audience made up of "people who care deeply about racial justice" but "do not yet appreciate the magnitude of the crisis faced by communities of color as a result of mass incarceration."
In other words, the goal of the book is to make America's most socially conscious residents more aware of a specific problem that they need to solve—but as Alexander acknowledges in the final chapter of the book, this is not enough. The criminal-justice reform movement is a struggle against fear, bigotry and ignorance, and it is likely to be a very difficult struggle.
Jackson native Tom Head is secretary of the Mississippi ACLU, writes About.com's Guide to Civil Liberties, and is author or co-author of 24 nonfiction books, including "Crime and Punishment in America" (Checkmark Books, 2010, $21.95).
Previous Comments
ID

159848

Comment

I read this book about 3 months ago. Interesting read and so much truth to many of the things she's saying. The War on Drugs turned out to be a war against black and brown people. The police ought to be ashamed of themselves, but if you give monetary incentives, people will do some crazy and unsavory things to get it.

Author

Walt

Date

2010-09-20T16:45:10-06:00
More stories by this author
Support our reporting -- Follow the MFP.