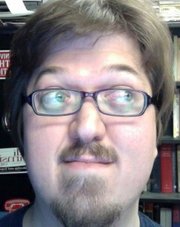 A good friend visited earlier this month. She used to live in Jackson, but moved away seven years ago to work as a community organizer in another city. And she, like so many people here, was a protege of Chokwe Lumumba.
As we drove away from the airport, we saw the huge metal artifice that still read "Jackson-Medgar Wiley Evers International Airport. Chokwe Lumumba, Mayor." She snapped a picture of it. So did I. And I think both of us did this as evidence—to remind ourselves that this really happened. That really was Chokwe Lumumba's name, sculpted in a massive typeface, under Medgar Evers' on the airport sign.
When I first met the man six or seven years ago, he wasn't a politician and didn't sound like someone who was particularly interested in becoming one. He cradled his first grandchild while delivering a speech on why we all needed to stand with the majority-Latino undocumented immigrants who had been repeatedly profiled by the culturally conservative majority in our state Legislature. I thought about how while this would have looked incongruous for so many people—holding a sleepy child, giving a fiery speech—it looked completely natural when he did it.
I soon came to realize that this integrity, and the complexity behind it, summarized a very complicated life and a hard-won set of radical values, refined after decades of hard and dangerous work protecting the survivors of our country's worst habits.
I didn't know him well, but I knew some of his friends and proteges so well that I felt like I did. Through them I slowly came to realize that the fearlessness and conscientiousness I saw on the surface was not a carefully constructed image, but instead a product of his moral velocity—a life lived with so much integrity that his decisions had developed their own kind of inertia. The risks he had taken in the past propelled him forward to take new risks in the present. He couldn't turn away from the work—not because he was too old, but because he had already seen and done too much. He was living proof of B.F. Skinner's maxim that what you do forms you into the person you will become.
I started taking notes. Five things about Chokwe Lumumba's character jumped out at me then, and still jump out at me now. If I'm wise, I'll remember them for the rest of my life:
He didn't admire power. When his Mississippi Bar Association license was suspended in 2005 after he sarcastically waved cash in a judge's face, it symbolized his entire relationship with what passes for success and influence in this world. He thought it was all a sick joke, and he was right.
He didn't admire words. He was a compelling speaker, but he used what he said as an instrument to get things done. His life was an illustration of Jorge Luis Borges' maxim that most people are more important than their opinions.
He didn't admire popularity. Until 2009, nobody would have mistaken him for a mainstream figure. He clearly didn't mind. Some of the statements he'd made that were used against him last year (with hilarious inefficacy) illustrated that he did not choose his loyalties based on the casual approval of uninformed strangers.
He was, by all appearances, completely fearless. Even his harshest critics admit that. He had a sense of purpose that was so strong that it made him impossible to intimidate. 
He loved the people, and by "the people" he seemed to especially mean the people that our existing power structure was willing to discard. 
Chokwe Lumumba was just a man, and he was—as he often reminded people—an imperfect man with an imperfect history. But if our popular concept of Christian values had more to do with Jesus and less to do with social approval, we would look at Chokwe Lumumba's example of a principled, disciplined life spent in service of the powerless, with contempt for institutional power and prestige, and we would see a committed disciple.
Some people asked last year whether Chokwe believed in the Resurrection, and they tried to find evidence for or against that in his theology. But a better place to look for Resurrection is in the lives of the people he helped—quite often, the people he saved. He represented the best parts of us as a city; we only had seven months of his service as mayor, but we were at least given the opportunity to tell him that.
Tom Head, Ph.D., is a Jackson native. He is author or coauthor of 28 nonfiction books, including the forthcoming "Conversations with Ntozake Shange."
More stories by this author
Support our reporting -- Follow the MFP.