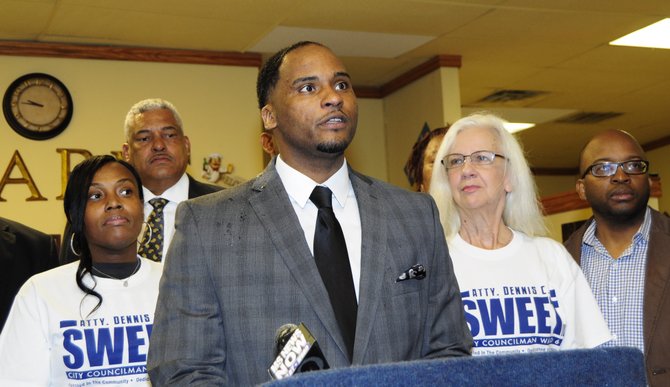 In what could shape up to be a continuation of the recent Jackson mayor's race through proxies, a protege of late Mayor Chokwe Lumumba officially launched his candidacy for the open Ward 6 City Council seat this morning.
Dennis Sweet IV, who endorsed Chokwe A. Lumumba for mayor, made the announcement this morning at Pearl's Southern Cooking, a small south Jackson soul-food restaurant that the elder Lumumba frequented. The Lumumba son, and former mayoral candidate, attended the announcement.
"I have been invested in Jackson, and I moved to Ward 6 because I know the potential that lies here," Sweet said. "We have a community feel with beautiful people and tremendous promise. I am committed to working with you to help ensure that we reach our greatest potential for growth, development and progress."
Sweet attributed that preparedness to his family, which he said have been longtime investors in the city of Jackson. Sweet's great-grandfather has owned restaurants and cafes in the city. His uncle is a doctor. His grandmother has been both an author and an educator. His father, Dennis Sweet III, is also an attorney and business owner.
"It's my family's example of leadership and investment in the community and service to the citizens of Jackson which encouraged me to be a homeowner in south Jackson, but it is my personal investment and ability that makes me the right person to serve as councilman for Ward 6," he said this morning.
Sweet works with his father at Sweet & Associates, where the younger Sweet specializes in civil litigation, civil rights, personal injury, medical malpractice, premises liability and criminal defense.
Born in Washington, D.C., and raised in Chicago, Sweet has practiced law in Mississippi since 2008. He has also worked as an adjunct professor and volunteer pre-law adviser for Tougaloo College, where he earned his bachelor's degree in 2004. Sweet attended Thurgood Marshall School of Law, and he received a Master of Laws from the George Washington University Law School in 2011.
Sweet promised that under his leadership he would encourage and support small businesses, such as Pearl's, which he considers the bedrock of the community. He would like to bring more businesses to the area and said he is committed to rebuilding the infrastructure that would support economic development. He also assured that he would direct funding to go toward road repairs.
"I am invested in family," Sweet told reporters. "I am invested in the people, and I am invested in you, and I need you to invest in me."
More like this story