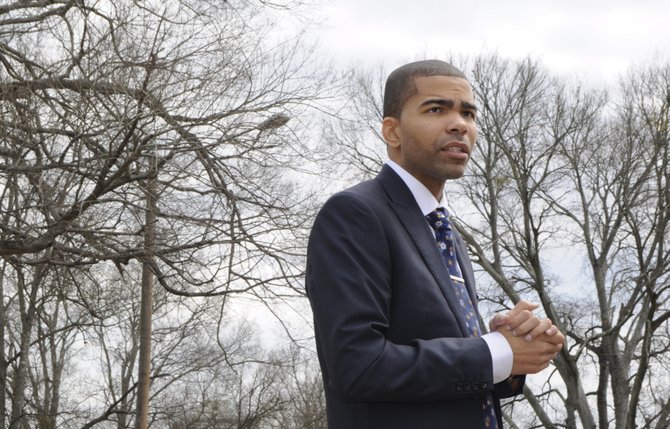 A little over a year ago, when then-Councilman Chokwe Lumumba decided to run for mayor of Jackson, he and some of his close advisers floated the idea of Lumumba's son, Chokwe Antar Lumumba, running to succeed him on the council.
Chokwe Antar passed on the chance. "At that time, my view was that we had leadership in place that could sustain things, in my father," he told the Jackson Free Press editorial board.
Now a year later, in the wake of his father's sudden death, Chokwe Antar said he believes he is the best person to move forward the principles that his father stood for despite what he calls the sacrifices to his young family, which now includes a newborn daughter.
Those principles include continuing People's Assemblies, community-based meetings that offer up ideas and solutions to government officials, as a key part of the governing process and continuing the work his father's administration began on creating a different kind of economy that emphasized community ownership of small businesses.
Antar, as friends call him to differentiate between his father and himself, grew up in northwest Jackson, attending St. Joseph's for middle school, Murrah and, ultimately, graduated from Callaway High School. He attended Tuskegee University in Alabama and Thurgood Marshall Law School in Houston before joining Freelon & Associates as the firm's managing partner, responsible for day-to-day operations. He and his wife, Ebony, gave birth to a daughter, Alake Maryama Lumumba, on March 18, 2014. He lives in northeast Jackson.
In public appearances, Antar talks of working on big cases, such as the clemency petition for the Scott Sisters, alongside his father, and helping craft the messaging during his father's successful 2013 mayoral campaign.
He also said he was a close adviser of his father's when he served on the city council, his campaign for mayor and during his seven months in office.
"I admired my father most, but I also disagreed with my father at times," he said, pointing to a disagreement over a development near Lake Hico that the senior Lumumba supported for the possibility of creation of jobs, but that Antar and the People's Assembly rejected.
Antar also said that he might look to shake up city hall and consider rolling back a few of the appointments his father made and work on implementing a citizens review board even though he has not consulted with the police union.
"We're going to fight crime, but we want to responsible in how we do that," he said.
More like this story
More stories by this author