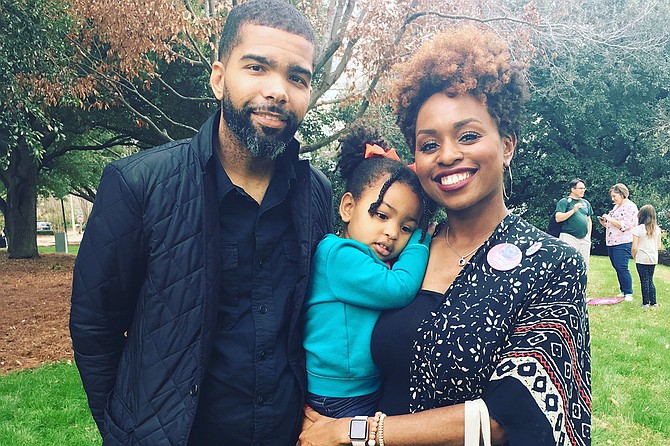 JACKSON — Mayor Chokwe Antar Lumumba and his wife, Ebony Lumumba, welcomed a baby girl Wednesday, March 21. Nubia Ngozi was born at 8:09 a.m., weighing 8 pounds and 1 ounce.
The mayor is now on paternity leave until April to spend more time with his family, as he had announced in a February interview with the Jackson Free Press. Lumumba said he could not take the time when their first daughter, Alake Maryama, was born because he was campaigning for the special mayoral election after the elder Chokwe Lumumba died.
"Because I was so absent when (Ebony) gave birth to Alaké—I was there when she gave birth, but I wasn't around in the early days as much as I would like to have been—with our new addition, I'm going to take some paternity leave," the mayor said in February.
Chief of Staff Safiya Omari and Chief Administrative Officer Robert Blaine will fill in for Lumumba in his absence. Kai Williams, the communications manager for the City, said the mayor will be at the city council meeting on March 27.
The Lumumbas' newborn, Nubia Ngozi, whose name translates to "beautiful blessing," is named after the mayor's late mother, Nubia Alaké Lumumba, whose middle name was given to their first daughter.
Ebony, who chairs the English department at Tougaloo College and is a doctoral candidate at the University of Mississippi, told the Jackson Free Press in February that she is looking forward to taking naps while the mayor is on leave.
"Ebony has been a real trooper ever since Alaké was born," the mayor said in February. "You've got to remember Alaké was born in the midst of a campaign and three weeks after my father died. So ever since she's been born it's been constant 'go' ... her first month on earth, I was running around campaigning."
Email city reporter Ko Bragg [email protected]. Follow her on twitter at @keaux_.
Support our reporting -- Follow the MFP.