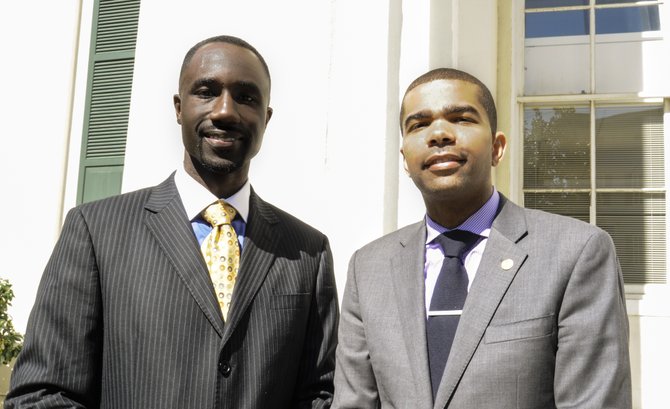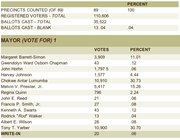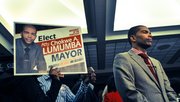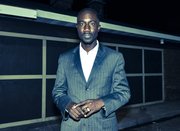 Last night's special election for Jackson mayor was about beating expectations.
First, the citizens of Jackson overcame low expectations for voter turnout. Information from the city's clerk's office shows that of the city's 110,606 registered voters, 35,522 cast ballots for one of 13 candidates who want to be the next mayor.
Those totals eclipse the past two regular city election cycles, both of which came at the end of yearlong campaigns.
In the 2013 Democratic primary, 34,652 people voted; in 2009, only 33,800 voters showed up on Election Day.
Yesterday's totals reflect the palpable excitement in the abbreviated campaign cycle, especially for the three under-40 contenders—who finished in the top three spots. The latest information from the clerk's office shows Chokwe A. Lumumba, a 31-year-old attorney and son of the late Mayor Chokwe Lumumba, narrowly edging out Ward 6 Councilman Tony Yarber, 36, by only 10 votes—10,910 to 10,900—putting them both in an April 22 runoff.
Melvin Priester Jr., who represents Ward 2 on the Jackson City Council and became city council president when the senior Lumumba died in February, finished in third place with 15 percent of all votes. Priester, 35, had the backing of longtime U.S. Congressman Bennie Thompson and a 12-page endorsement in the Jackson Advocate newspaper.
Veteran Ward 7 Councilwoman Margaret Barrett-Simon received 11 percent, while state Sen. John Horhn, former Mayor Harvey Johnson and Attorney Regina Quinn rounded out the rest of the field of candidates who have run for mayor in the past.
Now that the runoff is set, Lumumba and Yarber met this morning with Working Together Jackson at City Hall to make a public pledge to focus on issues for the remainder of the campaign and not engage in personal attacks on their opponent.
Working Together Jackson is a broad-based organization of more than 40 institutions, whose main concerns at the present time are public education, workforce development, neighborhood renewal, disability rights, predatory lending, infrastructure development and political accountability.
"Working Together Jackson represents these people behind me, 43 institutions—over 10,000 people in the City of Jackson—and we are hungry for unity, we are hungry for vision, we are hungry for leadership," said the Rev. Edward O'Connor with St. Andrew's Episcopal Cathedral, before introducing the candidates. "So we ask these candidates to commit to running a clean campaign."
Both Lumumba and Yarber signed the Collaboration and Cooperation Agreement and then made a vocal commitment to run a clean campaign.
Last night, all the mayoral candidates held post-election watch parties with their supporters.
Yarber's supporters met him warmly at Classics Bar and Lounge in south Jackson. Upon his arrival, Yarber addressed his supporters, thanking God, his wife and mother, and congratulating them on a job well done.
"I'm humbled because everyday people—the citizens of Jackson—you all have spoken," Yarber said. "Not only did you speak, but you saw the vision. You embody the strength to hold our principles high. You know that great things are ahead for our city. Thank you, Jackson. I'm grateful, and I'm humbled."
Yarber also stressed to his supporters the importance of the upcoming runoff election, saying that Jackson's future hangs in the balance.
"The future of Jackson is at stake right here," Yarber said. "... This is not a regular race we're in. Our city is at a place now where we have two options: We can go forward full speed ahead or we can go backwards. We have a formidable opponent. He is an amazing young man with an amazing team, but you are everyday people. Big-name endorsers didn't endorse us; you did—everyday people."
The theme of "everyday people" was also prominent at Lumumba's party at which Lumumba appeared to the 1992 song "People Everyday" by the Afrocentric hip-hop band Arrested Development.
Lumumba, who has never served in public office, addressed questions about his age and experience by retelling stories of his family receiving death threats when his father, a civil-rights lawyer, took on high-profile and controversial cases. As a boy, Lumumba remembers hiding in the closet with a kitchen knife waiting for his father to return home—a story he says demonstrates his fearlessness in tackling the problems Jackson faces.
"Seven months ago, people voted for a movement and a vision," Lumumba told his supporters at the Jackson State University e-Center. With the election results, he added: "The citizens said the people's mission continues."
Support our reporting -- Follow the MFP.