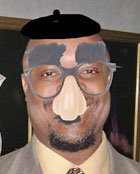 Miss Doodle Mae: "In this recessive economy, the financially challenged shop overwhelmingly at Jojo's Discount Dollar Store. Right now, there's no shame in the poor and middle class' game. Folk shop here as if they're at Y'all Mart. I guess it's like this because everything is $1 at Jojo's. And parents have already started early Christmas shopping. If business keeps booming like this during the holiday, Jojo may need to hire some seasonal help to work the cash registers and security.
"On another note, allow me to inform Jackson Free Press readers that as of December 2008 Ken Stiggers will return to writing his humor and satire column. About a year ago, Ken moved to Atlanta care for his 84-year-old mother. He assigned me, his alter ego Sue Doh Nem, to continue writing columns for the JFP while he took time to reacquaint himself with Atlanta.
"Upon arrival in Atlanta, Ken walked into a city struggling with high gas prices, a slow economy, high unemployment and hiring freezes. He took on menial jobs to survive and continued to care for his mother. Indeed, life's obstacles made Ken impatient, depressed and hopeless.
"Nevertheless, in October, he landed a video engineer job with a prominent video post-production company, followed by witnessing the election of the first African American president on Nov. 4, 2008. Ken said, 'It's time for me to change from a fictitious person to just being myself—again.'
"Look out for the return of Stiggers this December.
More stories by this author
Support our reporting -- Follow the MFP.