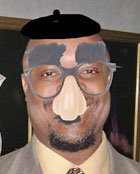 Miss Doodle Mae: "Greetings customers! I've been assigned a new responsibility as spokeswoman and public relations director for Jojo's Discount Dollar Store.
"Back in the day, folk in the ghetto would greet each other with a genuine and hearty 'What's Happenin'?' The response to this greeting was either a non-verbal gesture (i.e. shrug shoulders) or a hip, circular phrase such as 'Everything is everything!'
"The gesture and phrase have become the language of the disenfranchised. They know, see and experience what's happening today. That's why Billy Preston wrote the song, 'Nothin' from Nothin'.' Remember when Bob Marley and the Wailers sang, 'You can fool some people sometime, but you can't fool all the people all the time.' It's just true expression from folk who experienced disenfranchisement.
"I've said enough. My boss, Jojo, wants me to inform his disenfranchised customers about the Dignity Discount Sale at Jojo's Discount Dollar Store. Don't feel guilty about shopping because all dollar-store items are marked down. And Jojo has some interesting items for sale, like the John McCain and Sarah Palin Ghetto Bypass Campaign Tour Action Figure Doll Set and the Barack Obama and Joe Biden "Yes We Can" Sing-A-Long Karaoke and Voter Registration Rally.
"I must return to my store security duty. A group of people have staged a mock McCain campaign rally in aisle five using the Sarah Palin dolls. Jojo forbids political rallies in his store. Remember: Even in these harsh economic times, everything is a dollar at Jojo's. Keep hope alive!
More stories by this author
Support our reporting -- Follow the MFP.