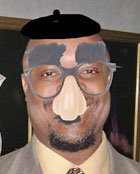 Rev. Cletus: "Welcome to a special radio broadcast titled 'Tithing and the Economy.'"
"It's getting kinda financially hectic for my dear church members. The collection plates don't lie. Tithes, offering and the building fund have dipped like the stock market. The only thing financially challenged middle class and poor people can do is put their trust in a higher power. Why? Because folks' cell phones and home telephones are disconnected while they wait on their next unemployment checks—if they arrive in the mail on time in. And don't forget the rent and light bills. They're due!
"Now that the holidays are here, my parishioners have literally taken loans from Brother Peter to pay Apostle Paul. This is definitely the time when everyone should ask: 'Where is my faith?"
"With that said, I want to promote my Automobile Bailout Used Car Sale. I have plenty of very affordable used cars ready to roll out of the lot. My deacon mechanics have worked tirelessly to refurbish late model cars to be sold to customers in need of transportation.
"Right now I have super low-priced specials on hybrid hoopty cars, such as Deacon Chauncey McBride's creation called the 'Hoop-DeVille.' He combined car parts from 15 local junkyards to build the first ghetto hybrid car. And that eight cylinder Cleveland engine purrs like eight kittens nestled on a warm comforter. Need a ride to work? Your Hoop-DeVille awaits you at Rev. Cletus' Automobile Bailout Used Car Sale.
More stories by this author
Support our reporting -- Follow the MFP.