The outcome of a lawsuit over a 2011 ballot initiative asking voters to define when life begins will come down to whether the initiative requires modifications to the state Constitution.
In July, Jackson attorney Rob McDuff, Planned Parenthood and the ACLU filed a lawsuit on behalf of two residents against Mississippi Secretary of State Delbert Hosemann for approving a 2011 ballot initiative asking voters to decide if the word "person" in the constitution will include "every human being from the moment of life, fertilization, cloning, or the equivalent thereof." Personhood Mississippi, an anti-abortion group, collected 106,325 signatures supporting the initiative.
The lawsuit claims the initiative violates section 273 of the state Bill of Rights, which states that a voter initiative "shall not be used for the proposal, modification or repeal or any portion of the bill of rights of this constitution."
"Not only are they modifying the bill of rights, they are proposing a new section," McDuff told the Jackson Free Press this week. "The modification of an existing section, and the proposal of a new section clearly violates the constitution."
Attorney General Jim Hood's office will represent Mississippi in the suit. Steve Crampton, an attorney with the Conservative law firm Liberty Counsel, will present arguments defending the personhood initiative.
"The Mississippi Constitution currently protects persons; it just doesn't define what a person is," Crampton said. "This amendment simplify clarifies what person means. It is not creating any new right or modifying any existing rights. ... It's a common occurrence in the law, for instance, that when courts are called upon to interpret statues they will supply definitions. What we are doing is the way ... laws are interpreted anywhere."
Crawford said that the goal of the personhood amendment isn't to determine what that definition would mean for legal interpretations. "All we are doing is saying, you have to recognize that (a fetus is) a living human being," he said. "What the Legislature chooses to do with that fact is not our concern at this point. That is a question for another day."
McDuff disagreed. "The whole reason they went to the trouble to gather over 100,000 signatures is because they want to change the law," he said. "If it didn't need to change, they wouldn't have gone through the trouble. This gives a definition of person that isn't already in the Bill of Rights."
Section 14 in the state Bill of Rights states: "No person shall be deprived of life, liberty or property except by due process of law." If the word "person" includes a fetus, it's unclear if fetuses could own property, or if a woman would face charges for having a miscarriage or a legal abortion.
The ACLU has filed similar lawsuits in Nevada, Missouri and Alaska over personhood ballot initiatives. In January, District Court Judge James T. Russell of Carson City, Nev., ruled against Personhood Nevada's proposed amendment, stating that it was too vague for voters to understand its meaning. The ballot initiative would have asked voters if "the term 'person' applies to every human being."
In Missouri, an attempted initiative would have asked voters if the state Constitution should be amended to define the word person as "the beginning of biological development and grant such person constitutional rights and access to courts under the equal protection, due process and open-courts provisions of the Missouri Constitution."
The ACLU filed a lawsuit against Personhood Missouri, but the petition did not receive enough signatures for the ballot. The Missouri Legislature, however, had already passed a bill in 1986 stating "the life of each human begins at conception" and that unborn children have protectable interests in "life, health and well being." But the bill wasn't enough to end abortions in Missouri because of the U.S. Supreme Court's ruling in Roe v. Wade. Missouri's Catholic bishops issued a joint statement against Personhood's 2010 proposed ballot initiative stating that like the existing law, it would do nothing to end abortions. "No state Constitution or state law can overturn provisions of the U.S. Constitution or interpretations of the U.S. Constitution by the Supreme Court," the letter states.
Hinds County Circuit Court Judge Malcolm Harrison hears the Mississippi case Oct. 7, and the losing party will "definitely" appeal to the Mississippi Supreme Court, McDuff said.
Previous Comments
ID

160211

Comment

So according to Crawford, changing the state's bill of rights so that it extends citizenship rights to embryos does not in any way change the state's bill of rights. It's a nonsense argument. And of course, all the state is really doing is fighting in state court for the right to be struck down in federal court. What a colossal waste of time and money.

Author

Brian C Johnson

Date

2010-10-06T13:41:03-06:00
ID

160212

Comment

Can Mississippians get on an educational band-wagon to help with the literacy problem in this state or could these folks initiate a program to reduce/extinguish poverty? It is so interesing that we have such interest in life before the fact; however, these same folks are members of groups that have as their focal point the elimination of Head Start Programs and any assistence to public delivery.

Author

justjess

Date

2010-10-06T13:42:39-06:00
ID

160219

Comment

Didn't they already do this in Colorado as well? I think what it came down to was an argument regarding IVF? If women fertilize four eggs, get two implanted, and "destroy" (although usually they 'store' the embryos for a while) will they be charged with murder? That's one of the HUGE issues regarding this crap. They don't consider alternative forms of conception and infertility and the issues that arise with it. According to them, those embryos would be "people". It wouldn't matter if the woman only wanted two children and had no use for the other two fertilized embryos. Would they be forced to then gestate those embryos? Or, give them to someone else? You know, since they are "people" and everything. I love how this has obviously failed in every other place its been tried, but here WE are....trying it AGAIN. Now, what's the definition of insanity again?

Author

Lori G

Date

2010-10-07T08:52:37-06:00
ID

160220

Comment

If the word "person" includes a fetus, it's unclear if fetuses could own property... OK. This is hysterical to me. All I could think when I read it was "What's my fetus's credit score? If its better than mine can I buy a car on my fetus's credit and get a better interest rate?"

Author

Lori G

Date

2010-10-07T08:55:25-06:00
ID

160228

Comment

this opens up a HUGE can of worms. if a fetus is a person, then: can you insure it, have a miscarriage, and collect on the policy? can you write a fetus off on your taxes? does a fetus get counted in the Census? can you sue a fetus? can a fetus sue you? if you abuse a fetus, can the fetus be taken away from you by DHS? is a fetus considered an American citizen since it is yet to be born or naturalized? just wondering....

Author

eyerah

Date

2010-10-07T12:47:49-06:00
ID

160231

Comment

(Let's keep this going. Its funny!) OR, even if the fetus is "born" in the United States but the mother got pregnant in another country would that fetus still be considered an American citizen? Can a pregnant woman vote twice? Once for herself and once for the fetus? How does a fetus register its address for a voting district? I know of no one currently running for Mayor of my Uterus. Does the fetus need its own health insurance policy? Would a health insurance company actually insure a fetus as it SERIOUSLY meets the criteria of "pre-existing"?

Author

Lori G

Date

2010-10-07T13:22:45-06:00
ID

160234

Comment

can a fetus get called for jury duty? is there a compulsory school age for a fetus? is a fetus considered tall enough to ride the rides at the fair? if an embryo is fertilized but not used, is that embryo considered homeless or a ward of the fertility clinic? can a woman drop her fetus off at an emergency room or fire station with no questions asked?

Author

eyerah

Date

2010-10-07T14:38:17-06:00
ID

160240

Comment

If medical issues are found during pregnancy, can you get your fetus declared "disabled" and begin getting SSI before the birth? Can I claim a fetus for food stamps? Since my fetus is unemployed, does it qualify for unemployment benefits? Or is the job "floatin' around my uterus" considered valid employment? Can I call in sick to work if my fetus doesn't feel good? And, for that matter, will my fetus get sick days? Or vacation time? Or EEOC protections? And, by the way, don't go to their website. Just don't do it. They act like a bunch of fetuses on there.

Author

Lori G

Date

2010-10-07T15:26:01-06:00
ID

160671

Comment

It seems worth noting that a similar amendment in Colorado was strongly rejected by voters last night. Amendment 62, the so-called "personhood" amendment, went down to defeat by a large margin--72 percent voting against to 28 percent voting as of this writing. Let's hope that all voters show as much common sense.

Author

Brian C Johnson

Date

2010-11-03T10:33:35-06:00
ID

160678

Comment

Hope so, Brian. I would like to think that even a fetus has that much common sense.

Author

Lori G

Date

2010-11-03T12:54:52-06:00
ID

160686

Comment

If it weren't for the extreme measure of outlawing certain forms of contraception, the Colorado initiative wouldn't be defeated so soundly. No, I wouldn't have voted for it if I were able to, but I think that may've played more into its defeat.

Author

golden eagle

Date

2010-11-03T16:02:01-06:00
More stories by this author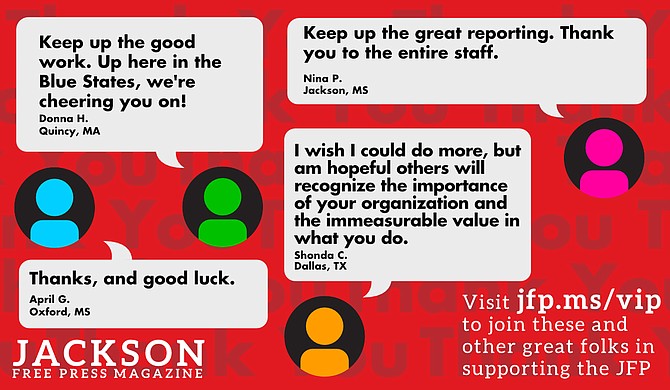 Thanks to all our new JFP VIPs!
COVID-19 has closed down the main sources of the JFP's revenue -- concerts, festivals, fundraisers, restaurants and bars. If everyone reading this article gives $5 or more, we should be able to continue publishing through the crisis. Please pay what you can to keep us reporting and publishing.